This post is on How To FIX a Corrupted SD Card On Phone/Android?
Are you having trouble with your SD card?
Do you feel like it's corrupted and not working properly on your phone?
You're not alone…
Many people have encountered this issue (including me)…
…but they don't know how to fix it.
Luckily, there are some simple solutions that can help you repair a corrupted SD card and get back up and running in no time.
In this post, I'll show you exactly how to do it. I'll walk you through the steps one by one so you can restore your SD card quickly and easily.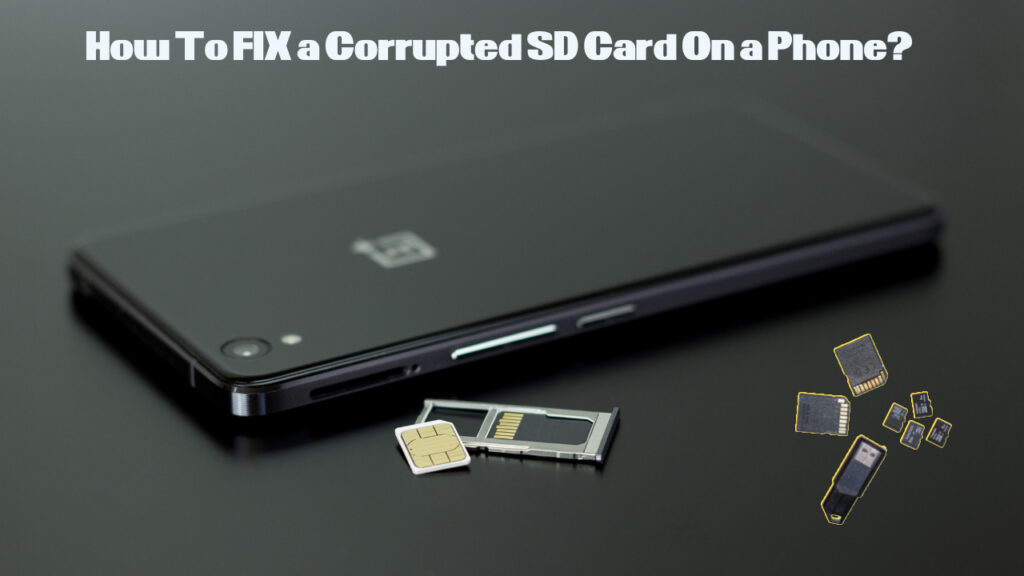 You won't have to be an expert technician or waste hours trying to figure out what's wrong – just follow our instructions and you'll be able to fix your corrupt SD card in no time!
So let's get started now!
Table of Contents
What Are The Signs Of A Corrupted Android Sd Card?
Before I show how to fix your corrupted SD Card, let's look at what the signs of a corrupt Android SD card are.
Error messages are often the first indication that something may be wrong with the sd card. These messages will typically appear when trying to access files or take pictures.
If this happens, then there's a good chance the SD card has been corrupted in some way.
It's also important to pay attention to any changes in speed or responsiveness from the device itself…
…if it takes longer than usual for apps to load, or if they crash more frequently than normal, these could all be indicators of a corrupt sd card.
In addition to these external symptoms, users should check out their phone's system settings as well.
A corrupt sd card might not show up in storage options anymore, so if you don't see it listed anywhere then chances are it needs repair.
Other signs that you can see on your corrupted SD Card are:
No SD Card Detected When Inserted.
Persisting Read/Write Issues.
Slow File Access Speed.
Black Screen in Camera.
Disappearing Files.
Unusual Formatting Errors.
Crashing Apps.
Unexpected Shutdowns.
Overheating Phone.
Unrecognizable Data.
Fortunately, there are numerous free tools available online that can help diagnose and repair any issues related to card corruption.
However, fixing the problem isn't always enough — understanding why it happened in the first place is just as important…
What Is The Cause Of A Corrupt Android Sd Card?
The signs of corruption can be subtle at first and cause major headaches if not caught early enough.
The main culprit behind corrupted cards are often improper handling or too much strain on the card itself.
So what causes these issues in the first place?
There are three main factors that contribute to sd card corruption:
hardware failure,
software malfunctions,
and physical damage.
Hardware failure refers to any kind of malfunction caused by either the phone's internal components or the memory card itself.
Software malfunctions are usually related to faulty updates or viruses which may lead to data loss from the memory card as well.
Finally, physical damage can result from everyday wear and tear such as dropping your device or having dust particles enter the ports where your memory card is inserted.
The following list provides some detail about each type of issue:
Hardware Failure:
Defective Internal Components.
Faulty Memory Card.
Software Malfunction:
Malicious Updates/Viruses
Incompatible File Formats
Physical Damage:
Dropping Your Device.
Dust Particles Entering Ports.
Dealing with a corrupted android sd card requires more than just cleaning up files; it needs smart troubleshooting and repair skills.
It's important to have an understanding of all possible scenarios so you know how to handle them should they ever occur…
…whether that means using recovery software for lost data or taking extra precautions when transferring files between devices.
How To Fix A Corrupted Sd Card On Phone?
Picture a beautiful spring morning, with the sun shining down and birds chirping away.
You're looking forward to spending time outdoors when out of nowhere you get an error message on your phone:
"SD card is corrupted."
It can be a heart-stopping moment for any Android user, but don't panic!
There are several effective methods that will help you repair your corrupt SD card with ease.
In the next few paragraphs, I'm going to walk you through exactly what steps you need to take in order to get your SD card back up and running again.
So if you're ready, keep reading for all the details!
Update Your Android System To Help Fix Sd Card Corruption Errors
It's a familiar feeling when you see that the files on your SD card have been corrupted and are no longer accessible.
It's like having a rug pulled out from under your feet, leaving behind an empty void and a sense of helplessness.
Thankfully, there is something we can do to help combat this issue—we just need to update our Android system.
Updating will not only increase security but also fix any potential corruption errors in the SD card itself.
With each new version, different bugs get patched up which makes it essential for us to keep up with these updates if we want to protect against such issues occurring again in the future.
Moreover, updating is incredibly easy; all we need to do is:
Head into our settings menu.
Click 'About Device' or 'Software Update' depending on your device model, and follow the instructions provided by Google Play Store.
In some cases, depending on what kind of phone you're using, you may be asked to download specific drivers/firmware too – however, don't worry as they are usually free and simple enough even for beginners!
The next step is then determining whether we're dealing with an SD card or a SIM card – both serve their own distinct functions yet look very similar at first glance.
Knowing which one we're working with can narrow down possible solutions significantly so it pays off to invest time into researching this information before doing anything else!
Determine If You're Using An Sd Card Or A Sim Card
Did you know that over half of all smartphone users in the world rely on their devices for storage?
It's no surprise then when an SD card becomes corrupted and causes problems with your phone.
Determine if you're using an SD card or a SIM card to ensure you take the proper steps to fix it.
First, check if the problem is related to your mobile network connection rather than simply being a corrupted memory card.
To do this, use another device such as a laptop or tablet with the same SIM card to see if they can access the internet or make calls.
If these devices have normal functioning, chances are that your cell phone has compatibility issues with your SD card instead.
The next step is to try rebooting your Android system by removing both battery and memory cards from the handset before reinserting them again after a few seconds.
This will help reset any settings on the device which might be interfering with its ability to read data from either type of media correctly.
If rebooting doesn't work, consider formatting the memory card completely and then reloading only necessary information back onto it – this should restore its original function once more!
If none of these remedies succeed, unlock the SD card if it was locked and check for physical damage that could be preventing successful communication between your phone and its memory source.
You may also need to replace your old one altogether with a new version of compatible size capacity depending on what sort of files were stored there originally (e.g., photos versus music).
Unlock The Sd Card If It Was Locked And Check For Physical Damage
It's like a puzzle, trying to solve the issue of a corrupted SD card on Android.
First, one must unlock the SD card if it was locked and check for physical damage that may have caused the corruption.
This is easily done with a simple switch or button depending on the type of lock present on the device.
Once this has been established, next you want to clean both the SD card and its port on your Android device using compressed air or an electronics cleaning solution.
Carefully remove any dirt or dust particles as they can cause issues when connecting devices together such as when transferring files from computer to phone via USB cable.
You don't want any dust blocking up those ports!
Finally, make sure to format your SD card before reinserting into your Android device so that all data stored in previous folders are wiped out and replaced with fresh ones for future use.
This process should help fix most corruptions related to an SD card but if these steps do not work then consider replacing it altogether for optimal performance and reliability.
Taking preventative measures will also be beneficial moving forward too – making regular backups of important data onto external storage solutions such as cloud-based services will ensure no loss if this kind of problem arises again in the future.
Cleaning your SD card and port regularly is another reliable piece of advice worth considering; just remember that small pieces of debris can lead to big problems down the line!
Clean The Sd Card And The Sd Card Port On Your Android Device
It's possible that cleaning your SD card and the port on your Android device could help you fix a corrupted SD card.
To do this, use an electronic contact cleaner or compressed air to remove any dust from both the SD card port and the SD card itself.
Then, dry them with a clean cloth before reinserting it into your device.
If cleaning the SD card doesn't work, there are other solutions available.
Try formatting the SD card using the computer first if you can access it.
If successful, then try reformatting it again within your Android device settings after inserting it back into your phone.
Also, make sure all software updates for both your PC and mobile devices have been installed prior to attempting any further repairs…
…outdated drivers may be causing conflicts with how data is stored on the card.
TIP: Make sure to backup important files stored on an SD card as soon as possible so they don't get lost should something happen during the repair process!
Try An External Sd Drive If You're Unable To Access The Card
As the sun gleams on your Android device, you realize that something is wrong.
Your SD card has become corrupted and all of your music, photos, and files are inaccessible.
In this moment of despair, a ray of hope shines— there may be a way to fix it! Glinting in the light is the solution: an external SD drive.
An external memory card reader can help recover data from a corrupt or damaged SD card.
By connecting the storage media to your computer's USB port, you'll be able to access any remaining files without having to worry about further damage being done to them by the faulty card.
However, if you're unable to even connect the card with a suitable cable then using an external drive might just be what saves the day!
The process for recovering files is simple enough; most require little more than inserting the SD card into its slot on the external USB Card reader and plugging it into your PC.
This will allow you to copy off whatever isn't affected by corruption so that you don't lose anything valuable.
And remember – always double-check where those recovered files have been saved as mistakes here can cost dearly!
Remember To Check The USB Drive Location For Your Files
It's understandable to feel helpless when your SD card becomes corrupted, but don't despair.
Remembering to check the USB drive location for your files can help you salvage data that might otherwise be lost forever.
The first step is to download reliable data recovery tools such as Recuva or EaseUS Data Recovery Wizard Free and locate the SD card in Windows Explorer.
You should then scan it thoroughly for any recoverable data and save everything you can find on another external storage device.
Don't forget: backing up important files regularly is always a good idea; if you had done so here, the problem would have been solved much faster!
But now that you know how to get back your precious memories, why not take this opportunity to start protecting yourself from potential losses?
If nothing else works, formatting the SD card with an Android device may be necessary before attempting further usage—but hopefully, it won't come down to that.
Format The Sd Card On Your Android Device If Necessary
The trouble with technology is that it can be as fickle and unpredictable as a summer storm.
Fortunately, for those of us who have encountered corrupt sd cards on android devices, formatting the card might just be the knight in shining armor to save your data from being lost forever—if you act fast enough.
First things first: Before attempting anything drastic, try connecting the SD card to a computer or laptop and see if any of your files are still readable.
If they're not, don't despair! There's another way.
From there, go into settings on your Android device and look for format SD card option.
This will completely erase all content stored in the memory, but should also fix any corruption issues your device may be having.
Make sure you back up important information beforehand; once this process starts, it cannot be undone without specialized software.
But what if you're unable to access either your phone or computer?
In such cases, one possible alternative could involve using cloud storage services like Google Drive or Dropbox instead of relying solely on an external hard drive or SD card.
It offers additional peace of mind knowing that no matter what happens to your physical hardware, key documents and other sensitive information remain safe in cyberspace – accessible whenever needed.
Use Cloud Storage As An Alternative To An Sd Card
Using cloud storage as an alternative to an SD card is a great way to keep your data safe and secure.
Cloud storage systems, like Google Drive or Dropbox, allow you to store large amounts of files with ease — without having to worry about the physical space limitations that come with using an SD card.
The best part?
You can access your files from any device connected to the internet!
That means you don't have to be tied down just because you're on one device: if you need something, it's right at your fingertips.
It also makes backing up your data easier than ever before — no more worrying about losing valuable information due to corrupted cards or accidental deletions.
But what sets cloud storage apart from traditional SD cards are its security features.
Your data will remain encrypted and protected by multiple layers of authentication, so there won't be any unauthorized access.
Plus, many services offer additional protection against cyber-attacks and malicious software attacks — giving you peace of mind when it comes to keeping your important documents safe and sound.
TIP: Before committing to cloud storage instead of an SD card for Android devices, check out different provider options in order to find one that fits your budget and needs.
Alternate Methods To Fix Your Android Sd Card
There are actually several alternative methods available to help fix your Android SD Card and get it back up and running again.
One option is to use a utility such as chkdsk in Windows or Disk Utility in macOS to run a quick scan of the SD card for errors.
This type of scan checks the integrity of data stored on the disk, verifying whether all sectors are readable or not.
If there are bad sectors detected, then these will be replaced with good ones from another sector.
Another way is by using third-party software applications like EaseUS Data Recovery Wizard which offers both quick scans and deep scans to detect corruptions and recover lost data from an Android SD card.
Finally, some users may also encounter corrupted SD card error messages when trying to open their device's storage space.
In such cases, performing a factory reset might just do the trick!
Of course, before doing so make sure you have backed up all important documents beforehand since they will be deleted during the process.
So now that we know how to address various corrupted sd card problems let us explore what is arguably even more helpful – recovering lost data from a damaged android sd card…
Another option would be to use Corrupt SD Card Repair from Google Play Store which has been designed specifically for fixing damaged cards.
The app features automatic detection of problems and is capable of recovering deleted photos and videos as well as repairing various types of errors caused by virus attacks or other issues.
Plus, it is free to download and very user-friendly, making it ideal for those new to troubleshooting their device's storage system.
The above solutions offer great ways to easily restore your Android SD card back into working order.
Just remember that while these apps/software might not always work perfectly every time, they are good starting points.
If you need quick results without having to invest too much effort into learning how to do more complex repairs yourself.
What Is The Best Way To Recover Data From A Corrupted Android Sd Card?
It almost seems ironic that while your phone is supposed to be a reliable storage device, situations like corrupted SD cards can occur.
After all, aren't we supposed to trust our phones with keeping our data safe?
But when it comes down to it, sometimes things go wrong and you need help recovering the files on your SD card.
So how do you recover data from a corrupted Android SD card?
The best way is by using the formatting option in the memory tab of your phone's settings menu.
This will erase any errors or corruptions within the file system, allowing you access to any lost photos or videos previously stored on your SD card.
To ensure that only problem areas are affected, select quick format instead of full format which will take longer but might also cause more problems if not done correctly.
Once formatted, you should see an increase in performance as well as be able to view all of your recovered files in the memory tab again.
While this method may seem daunting at first, following these steps with sd cards, corrupted files, and the options available under 'format sd card' can save time over other recovery methods such as downloading free data recovery tools online…
Free Data Recovery Tools and Softwares (SD Card Repair Tools)
Unraveling the mystery of corrupted SD cards can be like trying to unravel a ball of yarn, but data recovery tools have made it much easier.
Like an iron fist in a velvet glove, these free and reliable programs offer users a way to fix write-protected, accidental sd card corruption without breaking a sweat – or costing you an arm and a leg.
Here are 3 essential data recovery tools that can help with your card fixes:
Recuva – A powerful tool for recovering deleted files from SD cards on both Android and Windows operating systems.
Disk Drill – Offers both fast scanning capabilities as well as deep scan options if you need more thorough results.
iCare Data Recovery Free – An easy-to-use program suitable even for novice computer users who don't want to go through complicated settings and configurations when doing their recovery process.
Using one of these tools gives you access to all types of recoverable data such as photos, music, documents, and videos stored on damaged or corrupt memory cards; in some cases restoring them back to their original state before they were corrupted!
So why wait?
If you find yourself dealing with android sd card corruption, take advantage of what these free data recovery tools have to offer and get your precious memories back into safe keeping!
Some other SD Card Repair Tools
Recoverit
EaseUS Data Recovery Wizard
MiniTool Power Data Recovery
PC Inspector File Recovery
Restoration
TestDisk & PhotoRec
Pandora Recovery
With this knowledge at hand, let's move on to tips about how to avoid future sd card corruption…
Tips To Avoid Android Sd Card Corruption
When it comes to Android memory cards, the stakes are high.
Storing essential data and irreplaceable memories, card users would be wise to take all necessary precautions to ensure their card's safekeeping.
But for those facing a corrupted SD card on their phone, there is hope – as long as they know how to avoid such issues in the first place!
Avoiding an android sd card corruption requires regular maintenance of your device's card slot, port, and memory card.
Keeping them clean can help reduce dust buildup that could cause damage over time.
Additionally, only using trusted options when inserting or removing the microSD from its slot is always the best option.
Even small movements can cause permanent harm if not done with care.
By taking these proactive steps towards preserving your memory card's health, you'll have much less chance of dealing with any type of corruption down the line.
With this knowledge in hand, you're better prepared than ever before when it comes to avoiding potential problems.
And while it may seem tedious at times, following these tips will keep your precious files safe and sound every time you use your Android device's SD card!
Frequently Asked Questions
Is It Possible To Repair A Sd Card Without Formatting It?
It's estimated that 1 in 10 people will experience some kind of SD card corruption on their Android phone. But is it possible to repair an SD Card without formatting it? Let's find out.
You can attempt to fix a corrupted SD card without formatting by following these steps:
* Scan the SD card for issues – The first step is to use your computer and scan the corrupt card for any problems. You should be able to do this with your PC or Mac, as well as with third-party software such as Recuva or Disk Drill.
* Assign a drive letter to the card – After the scanning process finishes, assign a different drive letter (e.g., E:, F:, etc.) to the corrupted SD Card so you can access its files more easily.
* Recover lost data from the card – Finally, you need to try and recover lost data from the corrupt card using specialized recovery software like Stellar Data Recovery Professional.
This tool allows you to preview recovered files before saving them back onto another storage device.
So yes, repairing an SD Card without reformatting is possible if done correctly.
By running scans and assigning drive letters then recovering data with professional tools, you have a good chance of getting all your valuable photos and videos back safely!
How Do I Fix A Corrupted Sd Card On Android?
If you're an Android user and your phone's SD card has become corrupted, don't worry. You can fix the problem without resorting to formatting it.
Here are some things you can do:
* Check for bad sectors: Sometimes a simple scan of the SD card will reveal if there are any bad sectors that may be causing the issue.
* If you find any, try repairing them with software specific to your device's operating system.
* Alternatively, use a third-party program like chkdsk or testdisk to repair them on Windows or Linux computers.
* Try a formatting option: If the scanning process doesn't work, then you might have to format the actual SD card itself.
* First make sure to back up all data on the card before attempting this step as it will erase everything from it!
* Then go into Settings > Storage & USB > Format SD Card and select "Format". This should help restore its original functionality.
Keep in mind that physical damage to an SD card can cause permanent problems – so if your attempts at fixing it fail, then it could simply be beyond repair and need replacing.
How Does Damage To An Sd Card Affect The Card's Performance?
Damage to an SD card can have a negative effect on its performance.
Physical damage can cause the card to become unreadable by its host device, resulting in slow data transfers or even complete failure.
Corruptions or formatting errors can also cause the card to experience slow performance.
Wear leveling technology can help reduce the negative effects of physical damage, but it cannot prevent all issues.
In some cases, the data on the card may become inaccessible and require recovery by a professional data recovery service.
Is It Possible To Fix A Corrupted Android Sd Card Without The Software?
The corrupted SD card is like a broken puzzle, with pieces scattered all over the place without any hope of assembling them back together.
You feel lost and helpless in such a situation, especially when you don't have access to computer software that could fix it.
But there may be some other ways to repair your Android SD card without needing extra tools or software.
Before starting with the process of repairing your Android SD card, make sure you have a good-quality card reader and an internal storage drive letter ready.
This will help ensure smooth functioning and avoid potential issues during the format process.
To begin, try running basic troubleshooting steps on the phone itself by accessing its settings menu and checking for any faulty connections between the device and the memory card.
If nothing works then continue with formatting your mobile device's external storage using either Windows or Mac platforms as required.
When formatting, delete all data from your phone's internal storage before proceeding further onto fixing the damaged sd card itself.
Depending upon what type of corruption has happened on your Android SD card, you can use different methods such as chkdsk command line tool or diskpart utility to restore its functions back to normalcy and recover lost files if necessary.
With these simple steps, you should be able to get your Android SD card up and running again soon enough!
What Is The Best Way To Repair An Android Sd Card Without A Computer?
Many people think that repairing a corrupted Android SD card without the help of a computer is impossible.
However, with the right knowledge and resources, it is more than possible – it's easy to do!
So if you don't have access to a computer or laptop, here are some tips on how best to repair your phone's SD card:
1) Make sure you back up any important files beforehand. You can use either an external sd card drive, micro sd card, or another storage option as a backup before attempting repairs.
2) Check the disk for errors using something like typing chkdsk in the Windows command line (depending on what device you're using). This will tell you whether there are any logical errors preventing the SD card from being read correctly by your phone.
3) Resetting the settings on your phone might help fix minor software issues that could be causing problems with reading the SD card. Simply go into 'Settings' > 'Storage' and select 'Reset Settings'.
These three steps should get your SD card working again; however, if they don't work then it may be time to consider replacing the memory card altogether.
There are plenty of affordable options out there so you won't need to break the bank just to replace one piece of tech – and considering most phones come with around 32GB built-in anyway, this could also be an ideal opportunity to upgrade your storage capacity too!
How to Fix a Corrupted SD Card in Android Without Losing Data?
If you're having an issue with a corrupted SD card in your Android device, there are a few steps you can take to try and fix the problem without losing any data.
The first step is to ensure that the card is unlocked. If it isn't, you won't be able to access any data that is stored on it. To unlock the card, simply insert it into your Android device and follow the prompts to unlock it.
Next, try mounting the card on a Windows PC to see if it's recognized. If it seems corrupted there as well, try downloading a free program called PhotoRec, which is designed to help recover data from damaged storage devices.
Once you have PhotoRec, follow the instructions in the program to scan the card and attempt to recover any data that has been lost. It's important to note that this process can take some time, so be patient and allow the program to finish its work before you move on to the next step.
If the data is not recoverable, the next step will be to format the card. To do this, right-click on the volume of the corrupted SD card and click "Format". This will erase all of the data that is currently stored on the card, so make sure that you have backed up any important data before proceeding.
Finally, after the card has been formatted, you will need to reinstall the operating system. This can be done by using a USB drive or a CD/DVD. If you are using a USB drive, make sure that you format it first.
Once the operating system has been reinstalled, you should be able to access the data on the SD card again.
Conclusion
In conclusion, it is possible to fix a corrupted Android SD card with or without the help of software.
However, if you want to ensure that your data remains safe and secure while being recovered from a corrupt SD card then using a professional recovery tool would be the best option.
When fixing an Android SD Card on your phone, always remember to back up any important data before attempting any repairs as this will protect against potential data loss in case something goes wrong.
Additionally, make sure that you are aware of how damage to an SD Card can affect its performance so that you can take preventive measures when necessary.
Finally, considering all these facts, the real question lies in whether one should risk trying out DIY solutions for repairing their corrupted Android SD card or just opt for more reliable methods like professional recovery tools.
It's up to you to decide what works best for you!
You may like to read:
How to Fix a Corrupted SD Card on Your Computer?