Ever THOUGHT about how your pals make such funny and inventive snaps on Snapchat?
The secret's out, and it all comes down to Snapchat's AI!
Hey there, welcome to your super-duper guide on How to Use Snapchat AI.
This isn't just any old tech tutorial.
Nope.
We've got a promise for you: this will be a fun, lively, and, yes, even giggle-worthy ride.
After all, it's Snapchat we're chatting about, home of those wacky dog filters and groovy dancing hotdogs!
So, what's the big fuss about Snapchat AI?
Imagine having a personal buddy right in your Snapchat app, always ready to suggest the coolest lens or craft your unique Bitmoji tale.
Neat, right?
But the question is: how can you harness this power to the fullest?
Don't worry, that's exactly what we're going to unpack in this guide.
By the end of our journey together, you'll be a Snapchat AI whizz.
Not only will you grasp what Snapchat AI is, but you'll also know how to master it.
We'll guide you, step-by-step, on interacting with Snapchat AI.
Lens suggestions to make your snaps pop?
Group chats like you've never seen before?
Some exclusive features just for Snapchat+ users?
We've got it all covered.
And there's more.
Have you heard about the controversies and concerns that surround Snapchat AI?
Don't worry.
We'll delve into those too and chat about how Snapchat is tackling these issues.
We'll serve up some handy tips to make sure you're using Snapchat AI in the safest and most effective way.
Doesn't this sound exciting?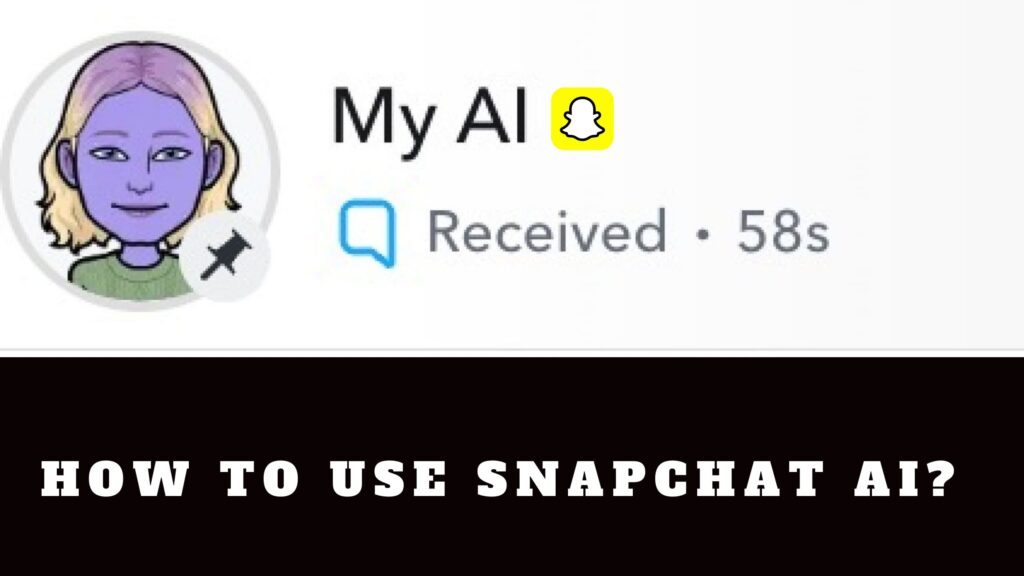 So, are you set to take your Snapchat game to the next level? Let's dive right in and unlock the thrilling universe of Snapchat AI together!
Are you ready to delve into the world of Snapchat AI?
Getting to Know Snapchat AI
Snapchat, our beloved social media hangout, has jazzed up its app with a sprinkle of artificial intelligence.
Why?
To make your Snapchatting even more fun and interactive, of course!
Say hello to "My AI."
Ever wondered what it'd be like to chat with a robot?
Need a suggestion for a cool lens?
Can't decide where to hang out?
"My AI" is your handy helper for all these and much more.
But What Exactly Is Snapchat AI?
Glad you asked!
"My AI" is like a digital friend built right into your Snapchat app.
It was originally only for Snapchat+ members, but now, it's free for everyone.
But how does it work?
It's powered by something called ChatGPT from OpenAI. Imagine a machine that can churn out text that sounds just like a human wrote it.
That's ChatGPT for you!
"My AI" is designed to stir up your creativity and it's mixed into all corners of the Snapchat app.
Want to add it to a group chat? Just use an @ symbol!
Fancy giving your bot a makeover? Create a custom Bitmoji avatar for it!
In need of an AR filter or a cool place to visit? Ask "My AI"!
And there you have it – your quick and easy guide to understanding Snapchat AI.
So, are you ready to play with "My AI"?
How to Use Snapchat AI
Using Snapchat's AI, or what they call "My AI", is pretty simple, and I'm going to show you how!
Follow this super easy guide on how to interact with My AI:
Step 1: Accessing My AI
Do you want to chat with My AI? Here's what you do:
Swipe right on the Snapchat camera screen. If My AI is ready for you, you'll see a message from them in your chat box.
Tap that chat to start talking to My AI. The first time you chat with My AI, they'll ask you to agree to some terms. Just tap "Accept" and you're good to go!
Step 2: Interacting with My AI
Now you can start talking to My AI!
Send them a message just like you'd message a friend.
You might say, "What can you do?"
You can ask them to play a game with you, or help you think of cool chat and Story ideas.
Maybe you want to write poetry, find a good restaurant, or pick the perfect birthday gift.
My AI can help with all of that!
Step 3: Providing Feedback
What if My AI says something weird or wrong?
Well, you can help make them better! Just tap and hold the message you didn't like, tap "Submit Feedback," and then tell them what you think.
Step 4: Inviting My AI to Other Chats
You can even bring My AI into a chat with your friends.
Just type "@myai" into any chat and tap on My AI.
Then you can ask a question or give a command, and My AI will respond right there in the chat.
Remember: My AI is not perfect. It's like a friend who's always learning. So, be patient and keep helping them learn!
Using Snapchat AI in Group Chats
Snapchat AI isn't just for solo chats, it can join group chats too!
This clever AI can help manage your group chat, sort your messages, and even suggest what to say next.
Here's how you can use Snapchat AI in group chats:
Open the Snapchat app and go to the group chat where you want to use the AI.
Tap on the chat bar to bring up the keyboard.
On the right side of the chat bar, you'll see a small icon. That's the Snapchat AI icon.
Tap that icon to wake up the AI. The AI will start looking at the chat and giving suggestions.
Use those suggestions to answer messages, manage the group chat, and make your Snapchat experience even more awesome! 
Snapchat AI for Lens Suggestions
Want to have even more fun on Snapchat?
Ask the AI for lens suggestions!
Just tell the AI something like "turn me into a dog" or "give me the best happy birthday lens."
The AI will suggest lenses that match your request.
This can make your Snapchat experience even more exciting and personal!
How to Use Snapchat AI for Lens Suggestions
Snapchat AI is like your personal Snapchat assistant, making the app even more fun and interactive.
One of the coolest things it can do is suggest lenses.
Here's how to do that:
Step 1: Access Snapchat AI
You'll find My AI on your Chat screen. Just swipe right from the Camera screen. If you don't see My AI yet, don't worry. Snapchat is adding this feature little by little.
Step 2: Ask for Lens Suggestions
Ask My AI to suggest lenses. You can say something like "turn me into a dog" or "show me the best happy birthday lens." My AI will suggest lenses that fit your request.
Step 3: Explore the Lens Suggestions
Check out the lenses that My AI suggests.
You can unlock these lenses by scanning a Snapcode, clicking on a deep link, or searching in the Lens Explorer.
Choose the one that you like the most!
Step 4: Apply the Lens
Finally, apply the lens to your snap. This will change your snap in cool, creative ways. It's like adding a special touch to your Snapchat experience!
Remember: My AI is always learning, so the more you interact with it, the better it will get at understanding what you like and giving you awesome suggestions!
Snapchat AI Features – Unique Features of Snapchat AI
Let's jump right in and discover how Snapchat AI has transformed your experience on the app.
I'll guide you through some cool features that set Snapchat apart from the rest.
Are you ready?
Features of Snapchat My AI
What makes Snapchat's AI so special?
Here are some exciting features:
My AI: It's like having a friend who's always there for you! This feature is FREE for all Snapchat users. It's powered by OpenAI's ChatGPT technology and users have sent nearly 2 million messages using this feature1.
Image Generation: Ever wanted to continue a conversation through pictures? Well, now you can! Share Snaps with 'My AI' and get a unique image back. It's like a visual chat with your AI friend1.
Personalization: Ever wanted to design your friend? Here, you can! Create a Bitmoji and name your AI friend. You can even bring them into conversations with your other friends1.
Recommendations: Are you tired of choosing which lens to use? Let 'My AI' do the work! It can recommend lenses based on your location tags.
Speech Recognition: Love talking to your device? Snapchat listens! Simple words like "hi," "yes," "no," "love," and "wow" trigger fun animated effects.
How do These Features Enhance User Experience?
These features make Snapchat fun and exciting!
You can chat with 'My AI' for a more personalized experience, send Snaps and get a unique image back, and even talk to the app and see magic happen with animated effects.
It's all about making Snapchat more interactive for you!
Unique Features of Snapchat AI
What makes Snapchat's AI different from others?
It's the integration with OpenAI's ChatGPT technology, the ability to generate images in response to your Snaps, and the magic of voice recognition.
These features not only make Snapchat fun but also position it as a pioneer in social media AI.
Real-Life Examples and Case Studies
Want to see some real-life magic?
Snapchat users have exchanged nearly 2 million messages with 'My AI'.
Try saying "hi," "yes," "no," "love," or "wow" and watch the screen come alive with animated effects.
Snapchat AI for Snapchat+ Users – Exclusive Features for Snapchat+ Users
Snapchat+ is a paid subscription within the Snapchat app.
It gives you a VIP pass to new features before anyone else gets them. Here's how to become a Snapchat+ subscriber:
Open Snapchat and log in.
Go to your Profile.
Tap on the Snapchat+ banner at the top.
Choose a subscription to start your 7-day free trial.
As a Snapchat+ subscriber, you'll get some exclusive features like:
Ghost Trails on the Map.
Best Friends Forever (Pin as No. 1 Best Friend).
Story Rewatch Indicator.
Custom App Icons/Themes.
Snapchat+ Badge.
Friend Solar System.
Snapchat for Web.
Priority Story Replies.
Post View Emojis.
Bitmoji Backgrounds.
These extra perks are sure to spice up your Snapchat experience!
So, there you have it! Snapchat's AI is all about enhancing your experience, making the app more fun and interactive.
Whether you're using the free version or you're a Snapchat+ subscriber, there's a whole world of unique features waiting for you.
Dive in and enjoy the ride!
Related: How To Use Snapchat on PC?
The Technology Behind Snapchat AI
You might be wondering, what's the secret sauce behind Snapchat's cool AI?
Well, it's powered by GPT Technology from OpenAI, forming the base for Snapchat's AI buddy, My AI.
This technology specializes in creative tasks, making it an ideal fit for making your Snapchat chats more interactive and fun.
While tech giants like Microsoft and Google are also racing to bring AI to their platforms, Snapchat's CEO, Evan Spiegel, sees AI differently.
For him, it's not about powering search engines but about sparking creativity.
So, what can this AI do for you?
My AI is like a super assistant on Snapchat.
It can chat with you, answer your questions, and even suggest cool filters and lenses.
This shows just how much potential AI has to make social media more engaging and fun.
The Evolution of Snapchat AI
Snapchat has always been ahead of the game when it comes to AI.
Its journey is a tale of constant innovation, aimed at making your Snapchat experience even better.
A Brief History of Snapchat AI and Its Development
So, where did Snapchat's AI journey begin?
It all started with facial recognition technology, which powered those fun filters and lenses you love.
This tech can identify your face and add digital images to it, making Snapchat more interactive.
Back in 2015, Snapchat leveled up its AI game by acquiring Looksery, a startup specializing in facial recognition.
This move supercharged Snapchat's capabilities, leading to the creation of Lenses, one of Snapchat's most iconic features.
These Lenses use AI to recognize your face and apply filters that change your look in real-time.
But Snapchat's biggest AI move came with the launch of the 'My AI' chatbot in April 2023.
Powered by OpenAI's ChatGPT, 'My AI' was released to all Snapchat users.
It joined group chats, suggested AR filters, and even created pictures within Snapchat.
This was a huge step in Snapchat's AI journey, showing their dedication to using AI to make Snapchat even more fun for you.
How Snapchat AI Has Changed Over Time?
Over the years, Snapchat's AI has grown from just powering filters and lenses to becoming a key part of the app.
The 'My AI' chatbot is a clear example of this. It joins group chats, suggests AR filters, and even creates pictures in response to your prompts.
This shows how Snapchat's AI has become smarter and more interactive over time.
Snapchat also cares about your privacy and following community rules.
In fact, Snap's CEO Evan Spiegel revealed that a whopping 99.5% of My AI's replies follow their community guidelines.
Snapchat's AI journey shows its innovative spirit and dedication to making your Snapchat experience even better.
As AI technology keeps advancing, Snapchat will continue leading the way in this thrilling field. 
Popularity and Usage of Snapchat AI
Did you know that Snapchat's helper, named My AI, is a big hit?
Over 150 million users have started using My AI since April 2023. That's a LOT of people!
My AI is like a secret tool that makes Snapchat even more fun to use.
User Testimonials
What are Snapchat users saying about My AI?
Some folks really like how My AI is easy to use. They find it quick and convenient for fun tasks like playing games or creating cool content5.
But, not everyone is happy.
Some users have noticed that My AI can sometimes give weird advice.
Snapchat admitted that My AI might sometimes have 'hallucinations'.
Don't worry though!
Snapchat is really committed to making My AI better.
They're always trying to improve it, and they take your safety and privacy very seriously.
And that's the story of Snapchat's AI, My AI!
Even though it's not perfect, it's improving all the time.
Most importantly, it's making Snapchat even more fun for all of us.
Controversies and Concerns About Snapchat AI
Guess what?
Not everything is smooth sailing in the world of Snapchat AI.
One big issue popped up when Snapchat introduced My AI chatbot. Some parents and users were a bit worried.
They thought, "Is this AI trying to act like a friend to us, especially the young users?"
This could be quite confusing for some people, especially teenagers.
Addressing the Controversies: Snapchat's Stand
So, what did Snapchat have to say about all this?
They were pretty quick to respond to these worries.
They promised they're always working on making My AI better and safer, with a lot of help from users' feedback.
But one thing irked some users – they couldn't remove My AI from their chat unless they signed up for Snapchat's monthly premium service, Snapchat+.
Snapchat AI and Gender Discussions
Things got a bit more tangled when Snapchat's AI joined in on gender discussions.
A few users had concerns about how the AI understood and interacted with photos.
For example, one user was surprised when the AI started commenting on their photo.
The Role of Snapchat AI in Promoting Inclusivity
But guess what?
It's not all gloomy.
Some users found Snapchat's AI quite handy.
They used it for homework help and advice, and were pretty happy with the support it provided1.
This goes to show how AI can make everyone feel included and offer a unique experience to every user.
However, as we get better and smarter AI, companies like Snapchat must make sure they use it in a responsible and ethical way.
And that's the scoop on the controversies and concerns about Snapchat's AI.
Remember, every new thing comes with its own set of challenges, and Snapchat's AI is no exception.
Tips and Best Practices for Snapchat AI
Snapchat AI has changed how we use social media. It's fun and personal.
But do you know how to make the most out of it?
Be Clear and Specific
When you talk to Snapchat AI, make sure you're clear and specific.
The AI is here to help you, and it does a better job when you tell it exactly what you want.
Let's say you want to look like a dog in your snap.
Just say "turn me into a dog", and watch as the AI finds the perfect dog lens for you.
Privacy First
Snapchat has got you covered when it comes to keeping your chats private and safe.
You can delete what you sent to My AI in the chat within 24 hours.
But what if you want to erase older stuff? Here's a step-by-step guide:
Click on your Profile icon and tap the ⚙️ to get to Settings
Scroll down to find "Privacy Controls"
Tap 'Clear Data'
Tap 'Clear My AI Data' and confirm
Video Placeholder: Screenshot of the settings menu showing how to clear My AI data
Use AI Responsibly
Snapchat AI is cool, but remember to use it wisely.
Be thoughtful about what you share and how you interact. Snapchat has rules to make sure the AI helps create a safe and welcoming space for everyone.
Keep Experimenting
Snapchat AI keeps getting better and better, so don't be shy to try new things.
Whether you're testing out new lenses or finding new ways to chat with the AI, keep experimenting!
It will make your Snapchat journey even more exciting.
Snapchat AI really makes social media fun and engaging.
By following these simple tips, you'll be a Snapchat AI pro in no time.
So go ahead, get snapping, and make your Snapchat moments unforgettable!
FAQ: All About Snapchat AI
Where Can I Find My AI in Snapchat?
You'll find My AI in your Chat screen. Just swipe right from the Camera screen and there it is! Remember, My AI and its features are rolling out gradually, so if you can't see it yet, hold tight!
How Do I Get My AI on Snapchat?
Easy! Swipe right on the Snapchat camera screen. If My AI is available, you'll see a message from it in your inbox.
What if I Can't See My AI on Snapchat?
Don't worry! Follow these steps:
# Update Snapchat: Make sure you have the latest version. You can check in the App Store (for iOS) or Google Play Store (for Android).
# Open the Chat screen: Swipe right from the camera screen.
# Look for My AI: Check if My AI is listed as a contact in your chat list.
# Clear cache and data: If it's still not visible, try clearing your app's cache and data then restart it.
# Wait: Sometimes, new features take time to roll out to all users. Be patient!
Why Isn't My AI Showing up on Snapchat?
Just like we said before, My AI and its features are rolling out gradually. If you can't see it, it's probably still on its way!
How Do I Download My AI on Snapchat?
Good news – My AI is free for all Snapchat users! If it's been rolled out to your account, you'll find it on your Chat screen. Mention "@myai" to invite it into your other chats.
Is Snapchat AI Safe?
Yes! While the AI chatbot is designed to mimic human-like interaction, it's intended to enhance your app experience. Rest assured, Snapchat prioritizes user safety.
Is My AI a Hacker?
No, My AI is not a hacker. It's a tool powered by OpenAI that's designed to enhance your app experience.
Is Snapchat AI Available on Android?
Absolutely! My AI is available for all accounts and devices, including Android.
How Can I Tell if a Snapchat Account is a Bot?
Here are some tips to help you spot a bot:
# Observe the profile: Bots often have limited content.
# Check daily stories & activity: Bots may post generic or automated stories.
# Verify the Snap score: Real users usually have a legitimate Snap score.
# Look for Bitmoji: Most real users have a Bitmoji, while bots may not.
# Check the Snap Map: Real accounts often appear on the Snap Map.
# Search for similar accounts: Do a reverse image search on the profile picture.
# Analyze interaction: Engage with the account and see how it responds.
# Watch for spam behavior: Bots often send automated or spammy messages.
Does Snapchat Have an AI Filter?
Yes! Snapchat's AI filter, also known as "My AI" chatbot, is a powerful feature that offers a variety of creative photo and video effects. The filters, or lenses, are a fun way to enhance your snaps and express yourself creatively.
What Does AI Mean on Snapchat?
"AI" on Snapchat stands for "Artificial Intelligence". It's the technology powering the My AI chatbot.
How Can I Get Rid of My AI on Snapchat Without Snapchat Plus?
To remove My AI from your chat feed:
1. Swipe right from the Camera screen to go to the Chat screen.
2. Press and hold on My AI.
3. Tap 'Chat Settings'.
4. Tap 'Clear from Chat Feed'.
Why Don't I Have Snapchat AI?
My AI and its new features are gradually being made available. If you don't have it yet, don't worry, it should be coming soon!
Wrapping Up: A Look at Snapchat AI
Alright, folks! We've taken quite an exciting journey through the world of Snapchat AI. Let's quickly jog our memory:
We started by getting to know what Snapchat AI is, and the super cool technology it uses (like OpenAI's ChatGPT).
Then, we time-traveled through the evolution of Snapchat AI. It's awesome to see how it has transformed to make your Snapchat experience more fun and personalized!
We dove into some nifty features of Snapchat AI. Remember the part where it can whip up images just from your messages? And how it works in group chats and suggests lenses for your snaps? Cool, right?
But, it doesn't stop there! Snapchat+ users get some extra perks for an even better Snapchat experience.
We've also had some serious talk, haven't we?
We recognized the concerns and debates around Snapchat AI.
Yes, we heard about group chats and gender discussions.
But don't worry, Snapchat is committed to ensuring your safety and privacy. They've got your back!
Okay, now that we've covered all this, it's your turn to jump in and try Snapchat AI.
There's so much to discover!
Remember, like with any tech, use it responsibly and in good fun.
Despite the rough waters, Snapchat AI is paving the way for a social media revolution.
Isn't it thrilling to think that we're living in the midst of this?
So, why not give Snapchat AI a shot and see what it can do for you?
Snapchat's AI offers a truly unique and engaging user experience.
With the power of OpenAI's ChatGPT, image generation, and speech recognition, Snapchat really stands out from the crowd.
So, let's dive in and explore the wonders of Snapchat AI!
Don't forget to share your experiences with us!
Happy Snapping!