This post is on Sideloading Vs Jailbreaking Vs Rooting: Which Is Better And Why?
Smartphones have become an essential part of our everyday lives. We rely on them for entertainment, communication, and even work purposes.
Yet there are certain restrictions that come with using these devices;
…such as the inability to install apps from outside the official app stores or access areas of the device's operating system not meant for regular users.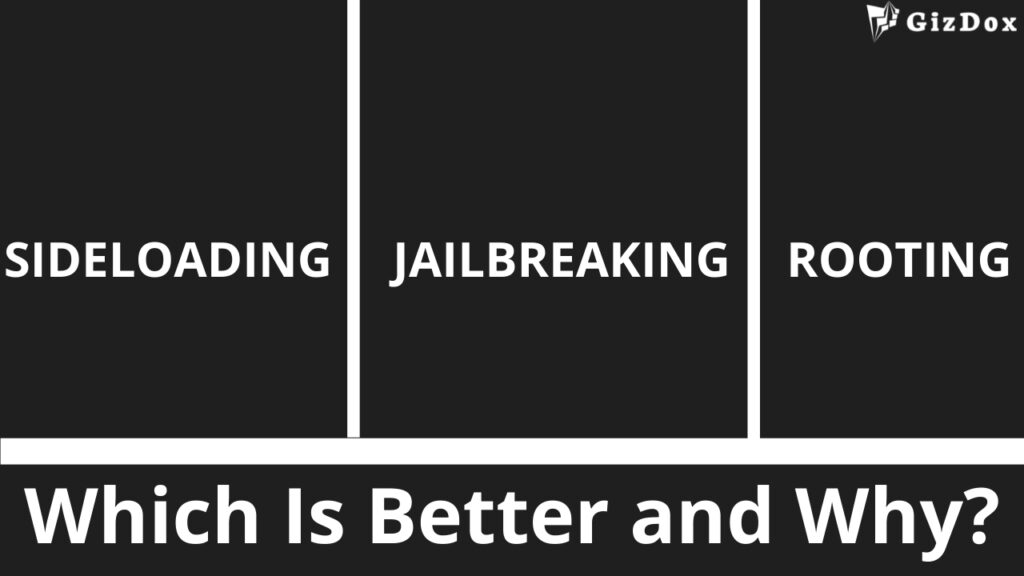 Fortunately, these limitations can be overcome by either jailbreaking, rooting, or sideloading your smartphone.
Table of Contents
But which is better? Sideloading vs Jailbreaking vs Rooting.  
This article aims to explain each method in detail so you can make an informed decision about what works best for you.
We will look at each process step-by-step and point out their advantages and disadvantages so you know exactly what you're getting into before taking the plunge.
Finally, we will discuss why one may be more suitable than the other depending on your individual needs.
Are you looking to get around some annoying restrictions imposed by manufacturers?
Are you eager to try something new but don't know where to start?
Then this article is perfect for you!
Read it now, and learn all there is to know about Sideloading vs Jailbreaking vs Rooting: Which Is Better and Why?
What Is Sideloading?
The idea of altering a device to get around its original limitations may sound extreme, but it can be done with little effort.
Sideloading is one such method available for those looking to expand their digital horizons without the need for jailbreaking or rooting.
It is a process whereby applications are installed onto an electronic device from sources other than official app stores – in other words, third-party websites or third-party app stores.
Sideloaded apps do not always come from reputable publishers and therefore users must take caution when downloading them as they could contain malicious content that can compromise security on devices.
That said, there are plenty of useful programs out there that cannot be found through official channels;
…sideloading gives access to these kinds of limited services which would otherwise remain inaccessible.
Moreover, it's worth noting that some manufacturers allow developers to upload apps directly into an app store rather than relying on Apple's App Store or Google PlayStore – this simplifies the installation process greatly.
Overall, sideloading offers an alternative way of accessing software outside the realms of what one might consider 'normal' use, allowing users to customize their experience beyond the limits set by major companies.
Of course, safety should always be taken into account before engaging in anything like this as careless actions could lead to permanent damage being done to your device.
As we move forward into a world where more freedom and control over our own technologies is essential…
…understanding methods like sideloading will become increasingly important. 
Advantages Of Sideloading
Sideloading is like a magical world of endless possibilities. It's almost too good to be true!
With sideloading, you can install apps on your device that would otherwise not be available in the app store.
You get access to applications from all over the world, without any restrictions or limitations.
Imagine having complete freedom to do whatever you want with your phone – this is what sideloading offers!
But it doesn't end there; sideloading also opens up new ways for users to customize their devices and unlock features they never thought possible.
From customizing fonts and themes to enabling extra functions such as gesture control or installing advanced launchers – these are just some of the advantages of using sideloading technology.
It's no wonder why many people have taken advantage of this powerful tool and unlocked the full potential of their smartphones.
Sideloading makes life simpler by allowing us to easily add functionality on our own terms – something jailbreaking, rooting and other methods simply cannot offer.
Without a doubt, sideloading is one of the best ways to maximize your device's performance while staying safe online.
Disadvantages Of Sideloading
Sideloading is like walking a tightrope between safety and risk – it's a delicate balancing act.
To sideload an app, users must download the software from outside of their device's official app store, often without knowing its origin or whether it has been tampered with.
While this method does provide access to exclusive apps and features not available in the official store, there are also some major disadvantages that come along with it.
The biggest disadvantage associated with sideloading is security risks.
Because you don't know where the software comes from, you can never be sure if it contains malicious code or malware that could compromise your data or device.
Additionally, because these apps aren't downloaded through an official store…
…they may not have gone through any kind of quality control process which means the user runs the risk of downloading faulty applications that won't work properly or cause issues with other programs on their device.
Finally, most devices will disable certain functions such as automatic updates when using sideloaded apps due to them being installed from outside sources.
This means users must manually check for updates on every application they install themselves; something that can quickly become tedious and time-consuming for even experienced tech users.
Sideloading may offer access to exclusive content but its drawbacks should be considered carefully before making use of this technique – especially for those concerned about security and usability.
Security Implications Of Sideloading
Sideloading is a relatively new concept in the world of technology, and its security implications need to be considered when deciding whether or not it's the right choice.
It involves downloading applications from outside of official app stores, such as Google Play Store or Apple App Store, onto devices like smartphones and tablets.
This process can potentially lead to malicious code being installed on those devices.
Since sideloaded apps don't go through the same kind of review process that apps in the official stores do, there's no guarantee they're secure.
It's important to remember that before choosing to sideload an application, users should take some precautions.
Researching the company who created the app is recommended so that you know if it's trustworthy.
You should also look for reviews about the app online to see what other people have experienced with it.
Additionally, double-check any permissions requested by the application before granting them access—they might be asking for more than necessary.
Finally, make sure your device has up-to-date anti-virus software so that any potential malicious actors are blocked out quickly.
By following these steps and taking into account all potential security risks associated with sideloading applications, users can better protect themselves against attacks while reaping the benefits of having extra options available outside of major app stores.
With that thought in mind, let us explore 'what is jailbreaking?'
What Is Jailbreaking?
Jailbreaking is a term widely associated with smartphone devices, but what does it actually mean?
In contrast to sideloading, which involves the installation of apps from an external source outside of an app store…
Jailbreaking refers to the process of unlocking a device's operating system.
This allows users to access more features and applications than were originally provided by the manufacturer or service provider.
By circumventing certain restrictions imposed on smartphones by their manufacturers and wireless carriers, this type of 'hacking' can offer increased functionality for personalized user experiences.
However, there are risks involved in jailbreaking that should be considered before proceeding.
For example, modifications made through jailbreaking could void
the warranty coverage
or cause other technical issues such as instability or data loss.
Despite potential security concerns and potential damage to your phone hardware, many people choose to jailbreak their phones due to convenience and customization purposes.
It gives them greater freedom over how they use their device and offers much more flexibility when managing installed applications.
Ultimately, deciding whether or not to jailbreak comes down to personal preference after weighing all pros and cons carefully.
As each method has its own advantages and disadvantages.
It's important to understand both rooting and jailbreaking before making any decisions about which one is best suited for a particular situation.
Understanding these two processes is key in determining which option will work best for you.
Advantages Of Jailbreaking
Jailbreaking a device has its advantages, but it also comes with some risks.
While the process of jailbreaking can be intimidating for many users due to the perception that it's illegal or dangerous.
There are actually quite a few benefits associated with taking this step.
In fact, by understanding why and how people choose to jailbreak their devices, we may find that it is an important part of modern mobile technology…
…one that should not be overlooked by those who want more control over their devices.
For starters, jailbreaking provides access to features and applications that would otherwise be restricted from certain platforms or operating systems.
This means users have the ability to customize their devices in ways that wouldn't normally be possible without voiding warranties or breaking contracts.
Furthermore, they don't need to worry about downloading malicious software since most reputable sources provide trustworthy content only available through jailbroken phones.
Finally, another advantage of jailbreaking is that it makes data transfer much easier than if done manually.
By utilizing specific tools designed specifically for this purpose, users can quickly move files between two different Apple-based devices – such as iPhones and iPads – without having to go through complex steps like setting up iTunes accounts or syncing iClouds accounts together first.
This saves time and energy while allowing easy access to all user information regardless of which platform they're currently using.
Jailbreaking certainly isn't for everyone — but given these potential benefits, it might just be worth considering for anyone looking for greater control over their mobile device experience.
Disadvantages Of Jailbreaking
It goes without saying that jailbreaking presents some of the most catastrophic consequences imaginable.
It is like playing with fire – it may offer a world of possibilities, but one wrong move and you'll be left in ruins.
From complete device breakdowns to serious security risks, here are just three of the many terrifying disadvantages associated with jailbreaking:
Device Malfunction
Jailbreaking your device can often lead to unexpected freezing or other performance issues since it modifies the operating system.
This means that your phone might not work properly anymore and you will have no warranty coverage if something does go wrong.
Security Risks
By unlocking certain features on your device, you also open yourself up to potential malware attacks which could cause major damage to both your phone and the personal data stored on it.
Additionally, jailbroken devices are more vulnerable to hacking attempts as well as malicious apps designed specifically for these types of phones.
Limited Support from App Developers
Since jailbroken devices don't always follow standard protocols, developers cannot provide technical support for any problems related to their applications running on an altered OS.
You'll also find that some popular apps won't run at all on a jailbroken device, so it's important to consider this before deciding whether or not to proceed with the process.
The drawbacks of jailbreaking should give anyone pause before taking the plunge into uncharted waters.
After all, there's much more risk than reward when tampering with sensitive software components!
As we transition into discussing the advantages of rooting next, let's keep in mind how dangerous attempting such modifications can be and why it's best left alone by casual users who lack tech-savvy skillsets.
Security Implications Of Jailbreaking
Jailbreaking a device is like cracking open the proverbial piggy bank – tempting, but fraught with security implications.
It's a way for users to break free from the bonds of their software and hardware providers by accessing features that are otherwise locked down or unavailable, as well as opening up access to unofficial applications on app stores.
But it comes at a cost: jailbreaking can put your phone data, private information, and even your identity at risk.
Most people assume they're safe if they don't download any malicious apps when jailbreaking their phones; however, this isn't entirely true.
Jailbroken devices have weakened security protocols since many important patches and updates cannot be installed due to Apple's restrictions.
This leaves the user vulnerable to malware attacks that use exploits in older versions of iOS, resulting in serious privacy breaches or worse – financial losses.
Moreover, once you've jailbroken your device there may not be an easy way back without completely wiping all its contents – meaning photos, text messages and other files could potentially get lost forever.
Therefore before deciding whether or not to take the plunge into jailbreaking land, one should consider both sides of the story carefully while weighing out potential risks against rewards.
What Is Rooting?
Rooting is like a wild animal being released from its cage, freed to explore and do whatever it pleases.
It's an act of liberation for the tech-savvy individual who desires more control over their device.
Rooting provides access to the deepest levels of the Android operating system, allowing users to flash new firmware or delete pre-installed bloatware that they don't need.
This unlocks features such as
installing custom ROMs,
overclocking processor speeds
and boosting battery life by tweaking settings.
In addition, rooting enables people to install apps that require root permissions in order to work—apps that are otherwise unavailable from mainstream app stores.
That means unlocking additional functionality such as tethering or ad blocking on mobile devices.
Rooted phones can also benefit from application patches that aren't available through official sources due to restrictions imposed by service providers.
The potential benefits of rooting come at a price though.
It voids any warranty associated with the phone and there is always a risk of bricking (rendering unusable) your device if things go wrong during installation.
Nevertheless, those willing to accept these risks will find themselves with greater freedom than ever before when it comes to controlling their devices' performance and capabilities.
Advantages Of Rooting
The power of choice – that's what rooting offers.
Unlike jailbreaking, which restricts users from certain features and functions, rooting allows you to customize your device in ways unimaginable before.
Here are four advantages of rooting:
Total control over the operating system – with root access, users can modify any aspect of their OS;
Ability to remove bloatware – pre-installed apps take up storage space and slow down your phone;
Installing custom ROMs – a custom ROM provides increased performance as well as better battery life;
Unlocking hidden features – there is often additional functionality tucked away deep inside the firmware that only becomes available when you gain root access.
From full customization to optimization, rooting has proven itself time and again as an incredibly beneficial tool for tech enthusiasts everywhere.
It opens up a whole new world of possibilities for those who know how to use it properly.
And while sideloading does offer some benefits, nothing quite compares to unlocking all the potential buried within a device's code through rooting.
Disadvantages Of Rooting
Rooting a device is like gaining access to the back end of your phone – it can be quite powerful, but with great power comes great responsibility.
For example, I once rooted my Android tablet and gave it too much control over how I wanted my device to run.
The result?
It crashed multiple times on the same day and became almost unusable.
While rooting can offer users additional control over their devices and open up new possibilities for customizing its functions, this also comes with a few potential risks.
Rooting relies on system vulnerabilities that could potentially lead to malicious apps being installed or even put personal information at risk if not properly secured.
Additionally, some mobile carriers may void warranties when they detect that a user has rooted their device as doing so requires making changes to existing settings that may conflict with carrier policies.
And while rooting does have its benefits, there are still implications from an overall security standpoint which should always be taken into consideration before taking the plunge.
Rooted devices are more vulnerable to viruses, malware, spyware and other forms of cyber attacks since they're far less secure than unrooted ones;
…thus leaving them unprotected against potential online threats.
So although rooting a device has its advantages such as giving users full control over how their devices run.
These must be weighed against the security implications associated with it before going ahead with the process.
With this in mind we now turn our attention towards sideloading and what impact it might have on security…
Security Implications Of Rooting
Rooting a phone is like unlocking an entire new world of possibilities.
It can be likened to finding the hidden treasure in an old attic, packed with all sorts of goodies you didn't even know existed!
But just as with any major undertaking, there are serious security implications associated with rooting your device.
For starters, when you root a device, it means that you'll have access to parts of the operating system that were previously locked away from users.
This can lead to malicious code being planted on your device without your knowledge or permission.
Additionally, rooted devices become much more vulnerable to malware and other cyber threats due to the fact that they no longer have the same level of protection provided by the original OS manufacturer.
Finally, while it's possible for some apps and services to still work properly after rooting a device, others may not function correctly at all due to changes made during the process.
So if you're thinking about taking this route, make sure you do your research first so you understand exactly what risks are involved before making any decisions.
Comparing The Benefits And Drawbacks Of Sideloading, Jailbreaking, And Rooting
When it comes to mobile devices, sideloading, jailbreaking, and rooting are all potential ways of unlocking the full potential of a device.
Each method has its own benefits and drawbacks that must be carefully weighed before making a decision.
Let's take a look at how these three methods compare when it comes to security implications.
Sideloading apps involves downloading applications from outside the official app store for your device.
This is an easy way to get access to features not available in your area or with certain restrictions.
The major advantage here is that you don't have to open up any kind of root access on your phone, so there's no risk of losing data or voiding any warranties by doing this.
However, since you're getting apps from sources outside the original provider, they could potentially contain malicious software which may compromise your phone's security.
Jailbreaking is essentially opening up root access to your device so you can use third-party modifications, like custom ROMs and tweaks.
While this gives you more control over what your device can do, it also opens up some serious security risks if done incorrectly – including malware installation and data theft.
Jailbroken phones can also become unstable after updating their operating system, leading to decreased performance or even bricking (i.e., rendering them unusable).
Finally, rooting allows users unrestricted access to every single file on their Android device – but again, only if done correctly.
Rooting provides complete customization options as well as improved privacy settings; however, it does require technical knowledge and thus carries the risk of permanently damaging the OS should something go wrong during the process itself.
As such, many people find that jailbreaking is preferable for increased flexibility without sacrificing too much safety due to lack of experience with rooted systems.
In short: each method offers different advantages depending upon individual needs and preferences – now we must consider whether one (or all) of these approaches is right for us personally
Is Sideloading, Jailbreaking, Or Rooting Right For You?
An interesting statistic to consider is that each year, millions of people globally opt for some form of sideloading, jailbreaking, or rooting their devices.
With so many users choosing these options, it's natural to ask: which one is right for you?
When considering sideloading vs jailbreaking vs rooting, the main difference lies in what each offers.
Sideloading provides access to apps and software not available in official app stores.
Jjailbreaking unlocks device features normally inaccessible; and rooting allows full control over a device's operating system.
Each option has its own set of advantages—and drawbacks—that must be weighed up before deciding on a course of action.
Ultimately, when it comes to sideloading, jailbreaking, or rooting your device, the best approach depends on individual needs and preferences.
Some may find greater benefit from accessing extra features via jailbreaking; others might gain more through gaining greater control with root permissions.
Whatever path you choose, understanding the risks involved can help ensure that your decision is an informed one.
Tips For Making The Most Of Sideloading, Jailbreaking, Or Rooting
While there is a great deal of debate about which method (sideloading, jailbreaking, or rooting) is the best for unlocking your device's full potential, most agree that each has its own advantages and disadvantages.
A deeper investigation into these methods may help you decide what will work best for your needs.
When it comes to sideloading an app, one must be wary of where they are downloading from as malicious files can cause serious damage to a system.
That being said, this process is typically much simpler than other options do not require any major changes to the phone's operating system itself.
It also allows users access to apps outside of those available on the official app store.
Jailbreaking devices involves making significant alterations to their underlying software so that unauthorized code can run on them.
This means more control over certain functions and settings, however it also opens up new security risks such as viruses and malware entering your device via unapproved third-party sources.
Rooting phones offers similar benefits to jailbreaking but goes even further with full administrative rights allowing greater control over how hardware resources like memory and data storage are used by applications installed on the device.
However, if done incorrectly or without knowledge of proper safety measures, root access could render your phone inoperable forever—so caution should be taken when considering this option!
Frequently Asked Questions
Is sideloading Same as Jailbreak?
No, sideloading is not the same as jailbreaking. Sideloading refers to the process of installing apps on a device without using the official app store or other software distribution channels.
Jailbreaking involves using exploits to gain root access to a device and gain access to features that would otherwise be unavailable.
While both processes involve bypassing restrictions, they are not the same and serve different purposes.
Is Sideloading Recommended For Users?
Sideloading is not recommended for most users. Apple has long been against allowing users to get apps this way, as it could compromise the security of its App Store.
Android phones even block apps from unknown sources.
For most users, sideloading offers no real benefit, as the majority of applications can be found in commercial app stores like Google Play and the Apple App Store.
Unless you are looking for an application that is not available any other way, it is not recommended that you sideload any content.
Is Sideloading Safe iPhone?
Sideloading iOS applications can be risky, but you can do it safely if you take the necessary precautions.
To ensure your safety, it's important to use sources that are approved and carefully vetted.
Apple also strongly recommends that users evaluate the safety of sideloaded applications before downloading them.
This can be a difficult task even for experts, so it's important to be diligent when selecting an app.
Apple's App Store also offers an additional layer of security as all apps must pass a strict review process before they are approved to list on the store.
Ultimately, while sideloading can be done safely, it's important to be aware of the potential risks and choose your apps wisely.
Can I Sideload Apps on iPhone Without Jailbreak?
Yes, you can sideload apps on your iPhone without jailbreaking it.
This can be done with the help of the AltStore/AltServer iOS app.
The latest version of this app allows users to sideload their own IPA files, without having to jailbreak their devices.
To start the process, simply go to Settings > Privacy & Security > Developer Mode.
With this process, you can enjoy all the benefits of sideloading apps without having to go through the hassle of jailbreaking your device.
What Devices Are Compatible With Sideloading, Jailbreaking, And Rooting?
Sideloading, jailbreaking and rooting – three common terms that have taken the tech world by storm.
But what devices are compatible with these methods? And which is better for different users?
As we delve into this intriguing topic, let's explore each of them in detail to understand their purpose and compatibility levels.
Sideloading apps involve transferring files from an external source onto a device like Android or iOS system.
This process requires no special tools and can be done directly from your computer.
Jailbreaking involves enabling third-party applications on Apple devices such as iPhones or iPads while adding access to certain features that were not enabled before.
Finally, Rooting allows you to gain unrestricted access over sensitive parts of the operating system of an Android device, allowing it more capabilities than normal user accounts would provide.
The type of device used determines which method will work best; sideloading works best with Android phones/tablets while jailbreaking works well with iPhone/iPad models but doesn't support Android systems.
On the other hand, Rooted Android phone offer full control over all its functions while iPhones remain locked down even after being rooted.
Each approach has advantages and disadvantages depending on what kind of device one owns making it important to know the specs before deciding on which way to go about it.
Ultimately, whether sideloading, jailbreaking or rooting is better depends entirely upon individual needs and preferences as each offers unique benefits for specific devices when compared to others.
It's essential to weigh out all options carefully before taking any measures as some processes could potentially cause irreparable damage if done incorrectly or without proper understanding of its consequences.
Are The Processes Of Sideloading, Jailbreaking, And Rooting Reversible?
Sideloading, jailbreaking, and rooting are processes that allow users to gain control over their device.
They can be used to customize the look of a device or install apps not available in app stores. But what happens when you want to reverse these processes?
The reversibility of sideloading, jailbreaking, and rooting depends on the type of process performed.
Sideloading is usually reversible because it's simply downloading an app directly from a source other than an official app store.
Jailbreaking and rooting involve making changes to the operating system itself, so they're harder to undo.
Generally speaking, if done correctly, both should be easily reversible with no lasting damage caused to the device.
However, there are some risks associated with any kind of hacking activity like this.
It's important for users to make sure they understand exactly how each process works before undertaking them so as not to do anything irreversible.
Additionally, it's always best practice to back up all data prior to attempting any kind of manipulation – just in case something were to go wrong during the reversing process.
How Long Do Sideloading, Jailbreaking, And Rooting Take?
Time is of the essence when it comes to sideloading, jailbreaking, and rooting.
Just like a caterpillar getting ready to fly away as a butterfly, these processes take time for changes to be made – sometimes even more than expected.
To get an idea about how long each one takes, let's explore them in-depth with some bitesize knowledge.
Like pieces of a jigsaw puzzle coming together, sideloading can usually happen within minutes or hours depending on your device type.
The same applies to jailbreaking and rooting too – though they may require more patience since their complexity often necessitates extra preparation.
In order to give you a better understanding of how much time each process requires:
1) Sideloading typically ranges from 10 minutes to an hour;
2) Jailbreaking takes anywhere between 15 minutes to several hours; and
3) Rooting can stretch from 1 hour up to 4 whole days!
Although all three methods are different in terms of speediness, none should be taken lightly.
Without adequate research into the potential risks involved (which vary according to device type), users will find themselves unable to reverse any progress made – so make sure you know what you're doing before diving straight in!
With this being said, proper planning must go hand-in-hand with thorough execution if you decide that taking the risk is worth it.
Are There Any Legal Implications Of Sideloading, Jailbreaking, And Rooting?
When it comes to sideloading, jailbreaking and rooting, the legal implications can vary depending on the device being used.
It's important to understand what these processes involve in order to determine if they're allowed or not.
Sideloading involves installing an app onto a device without using an official app store like Google Play Store or Apple App Store.
This is generally considered OK since no system files are modified, but some platforms may have restrictions against this practice.
Jailbreaking takes this one step further by bypassing built-in security measures so you can install unapproved apps or make changes to your device that would otherwise be restricted.
Depending on the platform, this could violate the terms of use for the product and could lead to penalties such as voiding warranties or service contracts.
Finally, rooting is a more involved process where users gain access to all aspects of their devices' operating systems – including changing settings and making modifications at a deeper level than with jailbreaking.
This is often seen as intrusive and illegal because it gives users control over parts of the software they wouldn't normally be able to access without permission from manufacturers or developers.
As such, many people opt not to root their devices due to its potential legal ramifications.
Knowing what each process entails is key when considering whether any of them are suitable for your needs – especially with regards to any legal considerations associated with them.
What Are The Risks Of Using Sideloading, Jailbreaking, And Rooting?
When it comes to using sideloading, jailbreaking, and rooting on mobile devices or computers, there are certain risks that should be taken into consideration.
These methods can help users access content not normally available or provide more control over the device's operations, but they come with drawbacks as well.
It is important to understand the potential consequences of these activities before taking them on.
First off, when a user 'sideloads' an application onto their device, they could potentially expose themselves to malware due to the lack of app store verification processes.
Similarly, jailbreaking and rooting also open up opportunities for malicious actors to take advantage of vulnerabilities in your system if you don't properly secure yourself against them.
Additionally, many manufacturers frown upon these practices because it voids warranties and may even lead to problems such as bricking (rendering your device unusable).
All things considered, while there can be advantages from utilizing sideloading, jailbreaking and rooting techniques, users must weigh the benefits against possible risks like data theft or hardware damage.
Being aware of what you're getting into is key to staying secure and keeping your device working properly.
Conclusion
In conclusion, sideloading, jailbreaking, and rooting are all processes used to gain access to features that would otherwise be unavailable.
Each process has its own set of pros and cons depending on the device and user preferences.
There is no definitive answer as to which method is better because it ultimately depends on individual needs or desires.
Interestingly enough, nearly 3-4% of Android users worldwide have rooted their phone at least once.
This statistic speaks volumes about how popular these methods are for gaining access to additional features or customization options.
Ultimately, understanding each process will allow users to make an informed decision based on their specific requirements.
No matter which method a user chooses—sideloading, jailbreaking, or rooting—it's important they understand the implications before proceeding with any sort of modification.
Following best practices will help ensure a safe and successful result while protecting both personal information and devices from potential harm.