This post is on How To Turn On/Off Subtitles On Peacock TV.
Have you ever been in a situation where the show you were watching on Peacock was so quiet that it felt like you were trying to read someone's thoughts?
I know this feeling all too well.
That is why I am excited to share with you how easy it is to turn on and off subtitles when streaming your favorite shows on Peacock.
In just three simple steps, you can be sure that no matter what show or movie you are streaming, you won't miss out on any of those important dialogue points!
So let's jump right into learning how to turn on/off subtitles on Peacock.
Table of Contents
How To Turn On Subtitles On Peacock TV
Turning on subtitles or closed captions is easy on Peacock. All you have to do is access the subtitle settings and choose which option best suits your needs.
To turn on subtitles while playing content on Peacock TV:
# Step 1: Launch the content you would like to watch and pause it to make the navigation bar appear.
# Step 2: Then click up on your remote and then click on the bubble icon.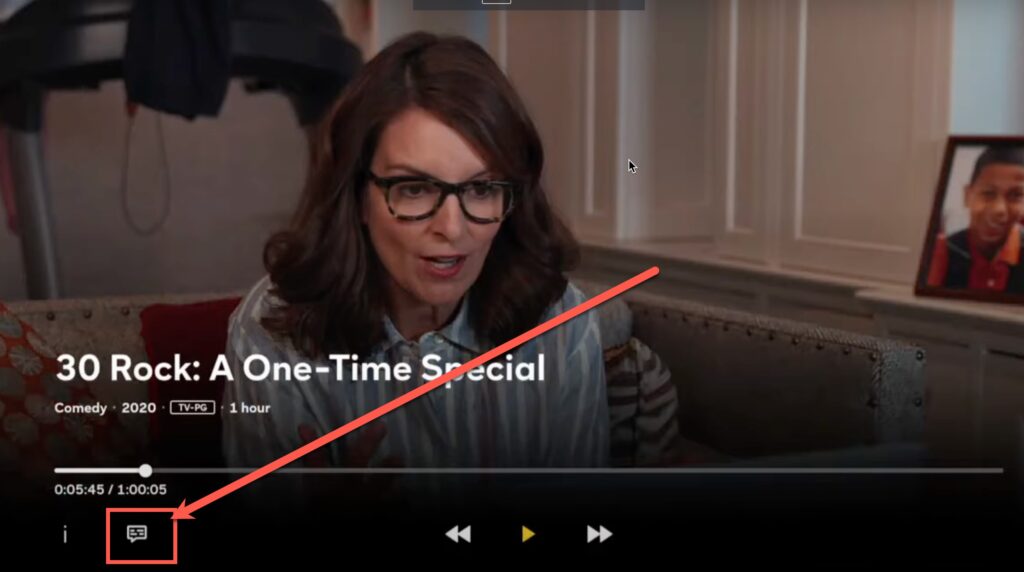 # Step 3: You can see English as an option above the subtitles. Click on that.
On mobile and tablet devices, launch the content and click anywhere on the video to pull up the video playback options.
Select the text bubble icon and then select the subtitle option you would like to use.
It's important to note that depending upon what device you are using for viewing, different subtitle options may become available.
If there isn't a particular language setting available from within the app itself, it's likely that any existing closed caption streams will be automatically selected based upon your device's current location.
So if English subtitles don't appear to be available at first, try changing locations in order to unlock additional titles and languages!
With just a few clicks, you can easily adjust your subtitle preferences so that they match up with what works for you.
Now let's look at how to turn off subtitles when needed…
How To Turn Off Subtitles On Peacock TV?
Turning off subtitles on Peacock is quick and easy. Here's a step-by-step guide to help you out:
First, open up the subtitle option in your settings.
If you're using a computer or laptop, it should be located in the bottom right corner of the player window.
On mobile devices, tap the gear icon in the top left corner.
You'll then see an option labeled 'Subtitles' – select this one!
Now that you've opened up the closed caption settings, there are several different options for customizing your viewing experience.
Here are some key features worth noting:
Subtitle language – choose from Spanish, French, Portuguese, and more;
Font size: adjust as needed to make sure your captions look clear;
Text color: match subtitles with background colors for better readability.
Background opacity: control how transparent or opaque subtitles appear against what's playing.
Once you have made all the necessary adjustments, click 'Done' to save them and turn off subtitles on Peacock.
That's it!
You can now enjoy watching movies and TV shows without any pesky text getting in the way of your entertainment.
Now let's move onto addressing subtitle settings on Peacock…
Different Languages For Subtitles On Peacock
With the right tools, controlling your viewing experience is easier than ever!
Peacock's subtitle feature makes it simple to customize the captioning language of whatever you're watching.
So if you want to switch between languages while enjoying a movie or show, all you need to do is follow this guide on different languages for subtitles on peacock.
To begin with, first, make sure that captions are turned on in your account settings.
Once that's done, head over to the video page and select 'Subtitles' from the player menu.
Here, you'll find a list of closed caption languages supported by Peacock – just choose one and click 'Update' for the changes to take effect.
You can also adjust the font size and color as desired.
TIP: If you don't see the exact language you're looking for listed in the Subtitles section, try searching for videos specifically tagged with it instead!

That way, you'll be able to enjoy content with perfectly-synced subtitles in no time.
How To Change Or Customize Subtitles On Peacock TV
If you want to customize your subtitles on Peacock with the speech bubble button and system-level accessibility preferences, tailoring your subtitles is quite straightforward.
The Subtitles Button helps adjust the size and color of the text for subtitle options, making them easier to read or less obtrusive during viewing.
You can also select from a list of available languages using this feature.
To access it:
Simply click the Speech Bubble icon in the lower right corner of any show or movie player page.
This will open up all available caption settings.
System Level Accessibility Preferences allow you to manage how captions are displayed across multiple devices that use Peacock services like Apple TV and Chromecast.
From here, you can choose which language appears as default when watching content with captions enabled.
With these tools at hand, customizing your subtitles has never been more convenient!
How To Adjust Subtitle Size On Peacock TV?
Making sure you get the most out of your viewing experience is one of the best parts about streaming movies on Peacock TV.
Whether you need subtitles to help understand a foreign language film or just want the added convenience of being able to read along, adjusting subtitle size can make all the difference!
Let's take a look at how we can quickly adjust this feature from device to device.
First off, when perusing through any movie selection page in Peacock, select "Details" and then go into Settings.
This will bring up an options menu for adjustable settings including Subtitle Size – allowing you to choose between Regular, Large and Extra-Large.
Pick whichever option suits your preference and enjoy!
You may also find that going into Closed Captioning Preferences from the main Settings tab can give further control over font typeface, text color and opacity if needed.
No matter what kind of device you're using, whether it be Mobile Phone, Tablet or Smart TV – with these simple steps you'll have no trouble getting exactly the right view experience tailored specifically to your needs!
Now let's move onto another essential adjustment: learning how to change subtitle colors on Peacock…
How To Adjust Subtitle Color On Peacock
When it comes to our favorite shows, subtitles are essential for understanding what's going on.
But if you're watching something on Peacock and the color of the subtitles don't quite match your style, then you'll want to know how to adjust them!
Fortunately, no matter whether you're using remotes or a streaming device, changing subtitle colors is easy.
To get started:
Open the video you're watching in Peacock and press MENU on your remote control (or equivalent button on your streaming device).
From there, select SUBTITLES & AUDIO.
Now you should see an option that says COLOR where you can choose one of several different options like White or Yellow.
Pick whichever color best suits your preference and voilà – now your videos will have beautiful colored subtitles!
So with just a few clicks from either a remote or streaming device, anyone can easily customize their preferred subtitle color while watching movies or TV shows through Peacock.
How To Adjust Closed Captions Position On Peacock TV On Android Device?
If you're using the PeacockTV app on your Android device, you can adjust the position of the closed captions. Here's how:
#Step 1: Open the PeacockTV app and select the video you want to watch.
#Step 2: Tap the three-dot icon in the upper right corner of the video player.
#Step 3: Select "Settings."
#Step 4: In the Settings menu, select "Subtitles & CC."
#Step 5: Tap "Text Position" and select your preferred position for closed captions. You can choose from Center, Left, or Right.
#Step 6: Finally, tap "Done" to save your changes and close the menu.
#Step 7: Now your closed captions should appear in your chosen position onscreen. Enjoy!
Tips For Using Subtitles On Peacock
When it comes to using subtitles on Peacock, there are a few tips you should know.
First off, accessing the accessibility settings is key.
You can customize your subtitles by clicking on the captions button in the bottom right corner of the player window.
Once that's done, select 'Subtitles' and choose between English or Spanish text-based options (whatever language you prefer). Here you can also adjust font size and color if needed!
Don't forget – make sure to save your changes after customizing your subtitles so they stay enabled for future viewings.
With these quick steps, you'll have no trouble making use of all the great features available with Peacock's subtitle tools.
Advantages Of Having Subtitles On Peacock TV
Have you ever wondered about the advantages of having subtitles on peacock?
From captioning to a more enjoyable streaming experience, subtitles can be incredibly helpful.
Here are some of the reasons why:
Captioning: Subtitles provides an opportunity for viewers with hearing impairments or difficulties to enjoy shows and movies on Peacock.
Accessibility: Subtitles ensure all viewers have access to content that they otherwise could not understand due to language barriers.
Improved Immersion: Not only do subtitles help people follow conversations in foreign languages but also aid those who need assistance following dialogue due to poor audio quality.
Enhanced Understanding: By reading along, viewers gain better understanding into character's emotions and intentions during their dialogues as well as story arcs.
Subtitles give everyone the chance to appreciate different types of media without any hindrance and take full advantage of Peacock's offerings.
With these benefits in mind, troubleshooting subtitles on Peacock should be much easier now…
Troubleshooting Subtitles On Peacock
Everyone knows how difficult it is to follow a show without subtitles. It's like playing a game of charades where the clues are too vague for you to guess anything!
Fortunately, there's an easier way: subtitles on Peacock. Turning them on and off isn't as hard as trying to guess your favorite characters' dialogue – but it can still be tricky if you don't know what to do.
This troubleshooting guide will help you navigate the waters of closed captioning options and make sure that you have the best viewing experience possible with Peacock.
To begin, all you need is a few simple tools like the 'captioning' icon (bubble icon) found in most playback controls, as well as some basic knowledge about:
How to access closed captioning settings.
What type of captions are available.
The different ways to turn on/off captions.
With these basics under your belt, here's how you can start using subtitles on Peacock:
Open up any video from the library and hit play.
Look for the bubble icon at the bottom of your screen – this is where you'll find all your captioning options and settings.
Use this menu to choose which type of subtitle should appear during playback or switch them off entirely by selecting 'none'.
Once done, just hit 'Play' again and enjoy your show with perfect subtitles tuned exactly to your needs!
By following these easy steps, anyone can take full advantage of their streaming service and get more out of their entertainment lineup than ever before!
With subtitling enabled, viewers can now easily understand every line spoken and never miss a beat regardless of language barriers or sound quality issues.
How To Download Subtitles On PeacockTV?
Downloading subtitles on Peacock is easier than you might think. It's available across many device types, and it only takes a few clicks to get them added to your videos.
Here's how:
First, open the playback menu while watching a show or movie.
Then, select 'Subtitles' from the options provided.
You'll be able to choose between several subtitle languages if they're available for that particular piece of content.
Once you've chosen one, hit 'Ok', and you should see the subtitles appear at the bottom of your screen!
Easy peasy! To help break down the process even further, here are some key points to remember when downloading subtitles on Peacock:
Accessible across multiple device types.
Open Playback Menu.
Select the 'Subtitles' option.
Choose the language desired.
To make sure everything looks right before playing your video, check each step off in order so nothing gets missed out and you can fully enjoy your viewing experience with all the necessary subtitles enabled.
Frequently Asked Questions
What Is Peacock TV?
PeacockTV is a streaming service that has taken the world by storm! It's like a feather on top of your media consumption, allowing you to dive into exclusive content with just the click of a button.
Whether it be from the comfort of your own home or while on the go with a mobile device, Peacock delivers its services in an unforgettable way.
It offers movies, shows and other viewing options from networks such as NBCUniversal, DreamWorks Animation and more.
With so many amazing opportunities for entertainment at your fingertips, one can't help but wonder – how do you turn subtitles on or off? The answer lies within…
How to Turn on Subtitles on Peacock on TV?
The process is very simple. You can refer this post for details.
How to Turn on Subtitles on Peacock Roku?
Turning on subtitles on your Peacock Roku is easy.
#1. To begin, press the "*" button on your Roku remote.
#2. This will open a menu of video playback options.
#3. From here, navigate to the captions button and select either "On" or "Off" to control subtitles.
#4. If you change your mind and want to turn off the subtitles, simply repeat these steps and select "Off".
#5. You can also tap on the screen while watching a video to access the captions menu.
#6. Finally, press the home button to return to the home screen. Following these steps will ensure that you can easily control subtitles on your Peacock Roku.
How to Turn Subtitles On or Off on Peacock TV Using a PC?
To turn subtitles on or off on Peacock TV using your PC, you'll need to sign in to your Peacock account through your browser.
Once you're in, go to the Settings menu and select 'Subtitles.'
From there, choose 'On' or 'Off' to control the subtitles.
Once you have made your selection, you can launch the Peacock app and select any program or show you want. The subtitles will be on or off accordingly.
How to Turn on Subtitles on Peacock Ps4?
To turn on subtitles on Peacock PS4, start by playing the show or movie you want to watch.
Once the stream begins, press the up button on your D-pad and then press the X button.
This will open up the playback options. Navigate to Settings > Accessibility > Closed Captions and set a checkmark in [Video Playback Settings] > [Display Closed Captions].
Then select your subtitle preferences. This will enable subtitles for any shows or movies you watch on Peacock PS4.
How to Turn Subtitles On or Off on the iPhone Peacock App?
Follow these steps to turn subtitles or closed captions on or off on the iPhone Peacock app:
#1. Open the Settings app and select 'Accessibility.'
#2. Choose 'Subtitles & Captioning.'
#3. Tap the "text bubble" (subtitles) button and then turn them "On" or "Off."
#4. Press down on your remote control and move to the left and select a program to play.
#5. Click on the same "text bubble" (subtitles) button again, and then turn them "On" or "Off."
#6. Close the Settings app and enjoy watching your program with or without subtitles!
How to Turn on Subtitles on Peacock Apple TV?
If you're watching a show or movie on Peacock Apple TV and would like to turn on subtitles, follow these steps:
#1. Open the Peacock app and click on the show or movie you want to watch.
#2. Tap on the screen while the video is playing.
#3. Select the Settings menu of your device.
#4. Scroll down to find the video playback options.
#5. Select 'Accessibility,' and then choose 'Subtitles & Captioning.'
#6. Change the audio language and subtitles as desired.
#7. Enjoy your show!
How to Turn on Subtitles on Peacock Xfinity?
If you are using the Peacock Xfinity app, you can turn on subtitles by pressing the OK button on your Xfinity remote to pause the program you are watching.
Then, scroll to the left and select the text bubble icon followed by 'None'. After allowing 30 seconds for the subtitles to turn on, they should be available.
How to Turn on Subtitles on Peacock Using Firestick?
Follow the steps below to turn on subtitles on Peacock using a Firestick:
First, open the video controls and select the captions button.
Navigate to and select Subtitles & CC. After that, press the "Menu" button on your Firestick remote.
From the options on-screen, you can turn captions on.
You can also set preferences for the way subtitles display, including text size and style.
As with turning them on, you can turn them off using the same steps.
Open the video controls, select the captions button, and navigate to Subtitles & CC.
Press select or down while watching a video and then hit the "Menu" button on your Firestick remote.
From the options on-screen, you can turn captions off.
Conclusion
Subtitles can be a great way to enhance your Peacock viewing experience.
With the ability to turn them on and off as you please and customize the size, color, and position of them, it's easy to make sure that they're always serving their purpose.
Plus, with over 30 million users now watching content on Peacock each month, there's no doubt that more people are taking advantage of this feature every day!
Overall, subtitles are an incredibly helpful tool for anyone who needs or wants extra support while watching movies or TV shows on PeacockTV.
Whether you need help understanding what's being said in a foreign language film or just want some assistance following along with the dialogue in a complex show – Subtitles can definitely come in handy!
So if you haven't already started using subtitles on Peacock yet – What are you waiting for? Give them a try today and start enjoying all the benefits they have to offer!
You can also read:
Soap2day Subtitles Not Showing?