"What is a Jailbroken Firestick?" This is what you are looking for…
If Yes…THEN Great…You're at the right place!
You're about to unlock the world of unlimited streaming possibilities.
But remember, this article aims to inform and educate, not to encourage any illegal activities.
In this easy-to-follow guide, We'll plunge into the depths of the Jailbroken Firestick phenomenon.
Why does it create such a buzz among streaming enthusiasts?
What does it mean to jailbreak a Firestick, and is it even legal?
You'll find all your answers right here.
Here's what we'll cover:
Understanding the Firestick: Discover what makes this tiny device a hot topic in the streaming community.
Unveiling the 'Jailbroken' Term: We'll demystify what it means to jailbreak a Firestick.
Exploring the Legal Landscape: Yes, we will touch on the big question – is it legal to use a Jailbroken Firestick?
Going through the complete post will make sure you get a deep understanding of the subject.
Who knows?
You might even become the go-to streaming guru among your friends!
And most importantly you'll never face any legal issues as you'll have a fair idea of what to do and not do with the JAILBROKEN AMAZON FIRE TV STICK.
The more you learn about Jailbroken Firesticks, the better prepared you'll be to make informed decisions regarding your streaming choices.
Key Takeaways
Jailbreaking a Firestick lets you install third-party apps and access content unavailable on the Amazon App Store.
Be cautious and research the legality of the apps and content you want to access.
Think about using a VPN to protect your privacy and security when streaming content on a jailbroken Firestick.
Keep your jailbroken Firestick updated and maintained for optimal performance and security.
What is a Jailbroken Firestick?
So, what exactly is a Jailbroken Firestick?
In simple words Jailbroken Firestick is a regular Amazon Fire TV Stick, but with an added bonus.
With these Amazon Fire TV Sticks, you can get unrestricted access to different apps.
But…to remind you getting unauthorized software and unlicensed content can lead to legal troubles.
More on unlicensed content and legal troubles in the next section.
I hope by now you know…
A Jailbroken Firestick is unlocked, allowing you to install third-party streaming apps and add-ons, which are not available on the Amazon App Store.
This opens up a new world of unlimited entertainment possibilities.
The real cherry on top? You're not bound to pay for each and every third-party streaming service to enjoy your favorite shows and movies.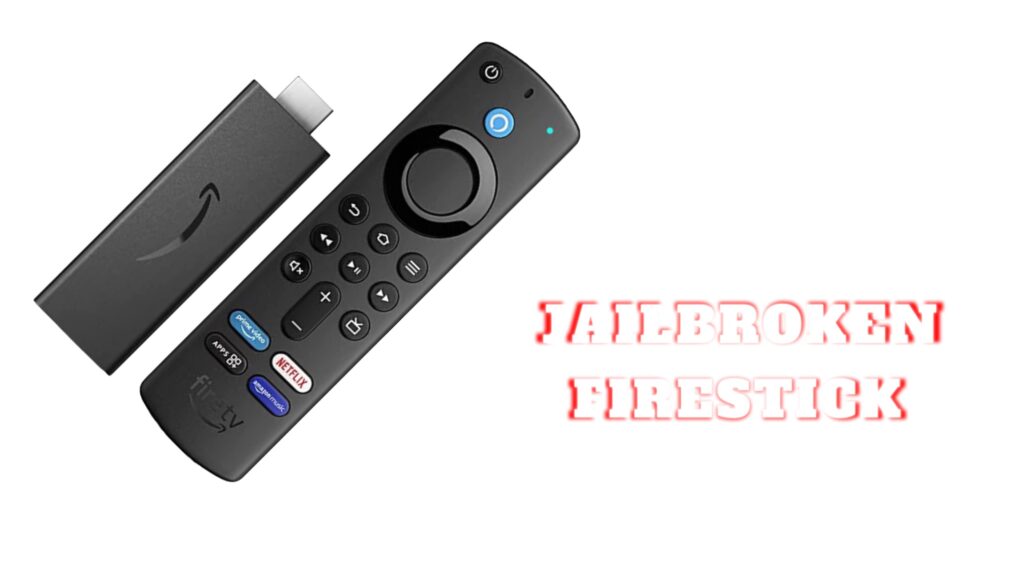 By July 2023, the Fire TV marketplace boasts a whopping 19,105 apps, a mix of free and paid options.
With jailbreaking, you don't have to limit yourself to this official marketplace; you can venture out and install apps from other sources.
Why is This Important?
Alright, let's swiftly dive into some key figures that have been reported by trusted sources.
The popularity of the Amazon Fire TV Stick has notably surged in recent years.
In 2019, nearly 18 percent of people owned a player.
Fast forward to 2020, and this number shot up to 30 percent!
| Year | Percentage of Ownership |
| --- | --- |
| 2019 | 18% |
| 2020 | 30% |
The rise in usage indicates a growing interest in alternative ways to access content.
This is where a Jailbroken Firestick comes in, by providing access to a broader range of content – movies, TV shows, live sports, and more!
And obviously, you don't have to compromise with limited streaming options to get popular third-party streaming service apps.
However, as thrilling as it may seem to dive into this vast pool of content, remember our golden rule – this article aims to educate, not promote any illegal activities.
We'll get to the legal aspect in the next section. Keep reading, as the journey is getting more interesting!
Stay informed, stay safe, and remember that a well-informed streamer makes better streaming decisions!
And…
Reading the complete post will make the streaming experience safe!
Benefits of Jailbreaking a Firestick
If you've made it this far, you might be thinking.
"What are the benefits of a Jailbroken Firestick?"
Are you?
Let's dive into some exciting perks that this unlocked device offers.
Access to More Content
With a Jailbroken Amazon Fire TV, your entertainment options multiply!
You can install popular streaming apps like Kodi, Cinema HD, and TeaTV.
This translates to unlocking a vast treasury of movies, TV shows, and live TV channels at your disposal.
Free Content
How about getting superuser access?
Without a price tag!
This jailbroken device can you the opportunity to enjoy a good movie or binge-watching a TV series.
Many third-party streaming apps on a Jailbroken Firestick provide access to free content, which are otherwise behind paywalls on other platforms.
But hold on…
Without going through the legality of streaming.
Don't just jump and start looking to jailbreak your popular streaming devices and start streaming movies.
You never know what streaming rights you'll break. So to enjoy your Jailbroken Amazon FireStick read the next section on legal problems of Jailbreaking Amazon TV Firestick.
Customization Galore
Ever dreamed of a personalized streaming device?
Jailbreaking your Firestick allows you to customize it to your liking.
From themes to add-ons and repositories, the options to enhance your streaming experience are plenty.
No Monthly Subscriptions
Streaming services usually come with monthly subscriptions.
However, the apps available on a Jailbroken Firestick often offer free content, eliminating additional expenses.
Ad-Blocking Features
Don't you just hate it when ads interrupt your favorite show?
Some Jailbroken Firestick apps come with built-in ad-blocking features. This means you can enjoy uninterrupted streaming, minus those annoying advertisements.
Easy Installation
Don't stress if you're not a tech wizard.
Jailbreaking a Firestick is a relatively simple process.
You'll find numerous online guides offering detailed, step-by-step instructions to help you.
Portable Entertainment
Who doesn't love entertainment on the go?
With a Jailbroken Firestick, your favorite movies and TV shows travel with you.
Simply plug the device into any HDMI-compatible TV, connect to Wi-Fi, and voila!
You're ready to stream.
A Jailbroken Firestick offers more freedom and flexibility, leading to a personalized streaming experience tailored to your preferences and interests.
CAUTION: Remember, this article aims to educate. Some of these benefits may skirt the boundaries of legality. We encourage responsible use of technology.
So, armed with this knowledge, do you feel a Jailbroken Firestick is worth the hype?
Read on to learn more about its potential downsides and legal implications.
Remember! Knowledge is power!
Legality and Risks of Jailbroken Firesticks
Legally Speaking…
This is the most important section and should read at least twice to avoid the risk of copyright issues.
Let's be clear about this – while jailbreaking your Firestick isn't against the law, using it to stream copyrighted content without proper authorization is a big no-no.
Think of it like this:
Jailbreaking a Firestick = Not Illegal 🎉
Streaming copyrighted stuff without permission = Definitely Illegal ⚠️
You don't want to face fines or legal action, do you?
So remember to use your super-powered, jailbroken Firestick responsibly!
Potential Risks and Spooky Stuff
Jailbreaking a Firestick can open Pandora's box of risks and security concerns.
Here's what you might be letting in:
Malware and Viruses: Like monsters hiding under your bed, these nasty critters can sneak into your device when you install third-party apps from unverified sources. And trust us, they don't make good roommates.
Unstable Apps: Sometimes, third-party apps can be as unpredictable as a game of dodgeball. They might crash, buffer, or cause other performance problems.
Lack of Updates and Support: Like a ship without a captain, third-party apps may not receive regular updates or have proper customer support, potentially leaving you stranded with compatibility and functionality issues.
Security Vulnerabilities: Jailbreaking a device can leave your defenses down, exposing your system to security risks. It's like leaving your front door open at night – not the best idea!
We're not trying to scare you, but a well-informed streamer is a safe streamer!
So, always stay vigilant when using your jailbroken Firestick.
Being aware of the legal stuff and potential risks ensures a smooth and enjoyable streaming experience that doesn't land you in hot water.
Legal Consequences of Downloading Pirated Content on a Jailbroken Firestick
Downloading pirated content is a serious offense, and the penalties can be pretty hefty.
Here's what you could be facing if you're caught:
Civil Penalties: You could end up owing thousands of dollars in damages. Imagine having to pay for each pirated movie or song – it adds up quickly!
Criminal Penalties: This is where things get scary. Downloading pirated content is a federal crime, which means it's really serious. You could face up to five years in jail, and fines can go as high as $250,000.
The exact punishment can change depending on where you live and what type of content you've downloaded – movies, music, games, etc.
In the UK, Under the controversial Digital Economy Bill, copyright infringement is taken very seriously.
If you're found to be in violation – say by downloading or streaming illegal movies using torrent networks – you could face a criminal offense.
What's more, the penalties for this can be pretty tough – as much as ten years in prison! That's a long time to be behind bars just for watching a movie.
Even streaming content through Kodi add-ons hasn't gone unnoticed.
Just last year, users received warning letters from the police, threatening them with possible jail time if they didn't stop.
So, the lesson is clear: be careful with what you stream or download. It's just not worth running afoul of the law.
But no matter how you slice it, the consequences can be severe.
Remember, the information here is just to give you an idea and does not replace proper legal advice.
So, if you're thinking about downloading pirated content, think again. It's not worth the risk!
The Inside Scoop: How a Jailbroken Firestick Works?
By now you know a Jailbroken Firestick allows you to install third-party apps and add-ons not found in the official Amazon App Store.
You might be wondering, "How does it do this?"
Let's break it down step-by-step.
Jailbreaking a Firestick
To jailbreak a Firestick, you tweak its settings to permit the installation of third-party apps and add-ons.
It's a harmless process that doesn't involve messing with the device's core system or installing unauthorized firmware.
If you follow an online guide, you'll see that it requires very little technical knowledge and can be done in a matter of minutes.
Accessing Unofficial Content
Once your Firestick is jailbroken, you can access unofficial content, such as movies, TV shows, and live TV channels that normally need a paid subscription or rental.
This might sound like a treasure trove of entertainment, but always remember to respect copyright laws.
Installing Third-Party Apps and Add-ons
The true power of a Jailbroken Firestick lies in its ability to install third-party apps and add-ons.
You can sideload these onto the Firestick, greatly expanding your viewing options.
Some popular apps include Kodi, Terrarium TV, and Mobdro, which house vast libraries of movies, TV shows, and live sports.
Jailbreaking a Firestick unlocks its full potential, providing an array of entertainment options that exceed a regular Firestick.
But, always tread carefully as jailbreaking could have legal implications if copyright-protected content is accessed without proper authorization.
Popular Apps and Add-ons for Jailbroken Firesticks
There are specific apps and add-ons that jailbroken Firestick users swear by.
Here are a few:
Kodi and Kodi Add-ons
Kodi is a media center app like your personal entertainment hub.
It gives access to movies, TV shows, live TV, and sports. Add-ons for Kodi bring in more features and streaming sources. Some favorites are:
Asgard: An all-in-one add-on that categorizes movies, TV shows, and more.
4K Movies and TV Shows: If you have a 4K TV, this one finds 4K content.
The Crew: This lightweight add-on offers movies, TV shows, and sports content.
TVOne: Watch free movies and TV shows in various languages.
SportsDevil: A sports enthusiast's dream, it lets you stream sports events and highlights.
Other Streaming Apps and Services
Apart from Kodi, jailbroken Firestick users also prefer other apps:
Cinema HD: This app compiles links from various sources for movies and TV shows.
Cyberflix: Offers a collection of high-quality movies and TV shows for streaming.
BeeTV: It finds links for movies and TV shows and categorizes them for easy access.
TeaTV: Refreshes its content library daily with new TV shows and movies.
HD Streamz: An IPTV provider with a broad range of satellite TV channels and movies.
These apps and add-ons enhance your streaming experience on a Jailbroken Firestick.
However, always use them responsibly and ensure you're accessing legal and authorized sources.
CAUTION: Remember, while jailbreaking a Firestick can open a world of entertainment, it also treads a fine line with legality. Always respect copyright laws and avoid accessing unauthorized content.
Maximize Your Streaming: Tips for Using a Jailbroken Firestick
Diving into the world of jailbroken Firesticks can be exciting, but there are certain things you need to keep in mind.
Reading this section will make sure you don't end up in trouble.
Follow these handy tips to not only boost your streaming experience but also keep your device secure and your actions private.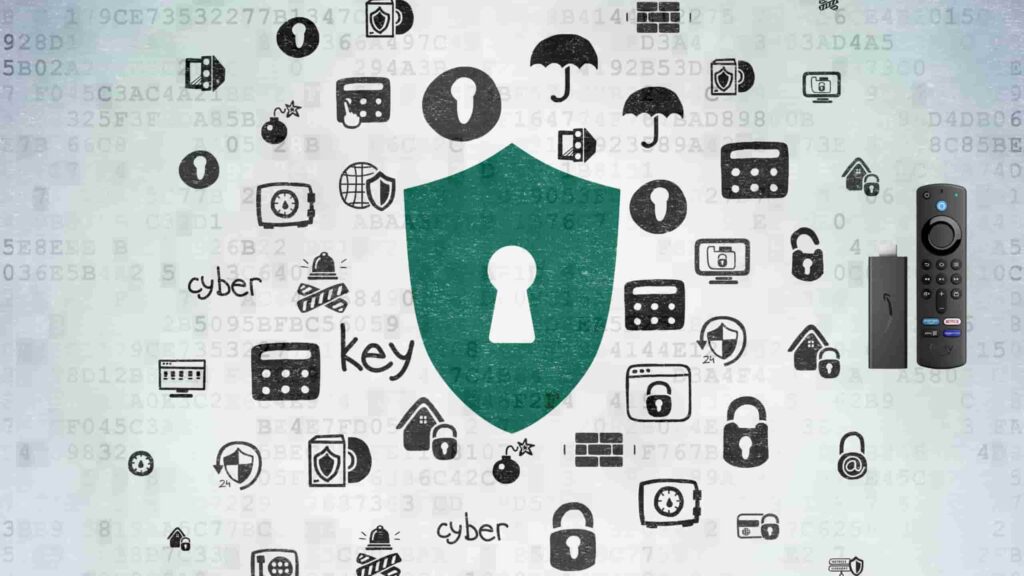 IMAGE PLACEHOLDER (Image Description: A Jailbroken Firestick with safety shield, symbolizing protection) Yes
Use a VPN for Privacy and Security
Ever heard of a VPN?
It's like your personal cloak of invisibility on the internet!
When you stream on a jailbroken Firestick, a VPN (Virtual Private Network) can encrypt your internet connection and hide your IP address.
This keeps your online activities private and secure from prying eyes.
Also, it can bypass geo-restrictions, giving you access to content blocked in your region.
Popular VPN services like NordVPN, ExpressVPN, and CyberGhost can be helpful.
Read: How to Install Soap2day On Firestick and Watch Free Movies Online?
Stay Up-to-Date and Maintain Your Jailbroken Firestick
To enjoy smooth streaming, you need to keep your device in top shape.
Here's how:
Regularly update your apps and streaming services: Updates bring in new features and fix existing bugs. So, make it a habit to check for updates and install them.
Clear cache and data: Over time, your Firestick can get sluggish due to piled-up cache and data. Navigate to Settings > Applications > Manage Installed Applications and clear cache and data for apps that you no longer use or are causing trouble.
Perform regular system maintenance: Restart your Firestick occasionally to refresh the system and clear any temporary files or background processes.
Organize your apps: As you install more apps, your Firestick may start to look cluttered. Use folders and categories to easily organize your apps and find what you're looking for.
Be cautious with third-party apps: While third-party apps can provide a wide array of content, some may carry security risks. Stick to apps from trusted sources and avoid ones that aren't well-known or seem dubious.
Believe me…
By sticking to these tips, you'll ensure a smooth, secure, and enjoyable streaming experience on your jailbroken Firestick.
IMPORTANT: While a jailbroken Firestick broadens your entertainment choices, remember to be responsible and ensure the content you're watching is legal or go for legal alternatives. Be a smart and considerate streamer!
Wrapping Up: The Highs and Lows of a Jailbroken Firestick
Jailbreaking a Firestick is a bit like opening a magic box. You get access to a broader range of content and features that a standard Firestick doesn't offer.
It lets you install third-party apps and personalize your streaming journey.
But remember…
…with great power comes great responsibility.
It's crucial to understand the legal issues and risks that jailbreaking a Firestick brings along as it might lead to unauthorized access to copyrighted content.
Let's go through a quick recap of the upsides and downsides:
Perks of Jailbreaking a Firestick:
Access to a vast array of third-party streaming apps and services.
Freedom to customize your streaming experience with add-ons and plugins.
Unlock unlimited content options and genres.
Trim down the cost of subscription-based streaming services.
Points to Ponder
Legal concerns about accessing copyrighted content.
Security risks from sideloading apps from unknown sources.
Risk of voiding the warranty on your Firestick device.
Regular updates and maintenance are needed for the jailbroken device.
Jailbreaking a Firestick can spice up your streaming experience.
But it's essential to do it responsibly and stay within the legal boundaries.
By understanding both the benefits and considerations of a jailbroken Firestick, you can make an informed decision that matches your streaming desires and legal duties.
FAQs: Unraveling the Mysteries of a Jailbroken Firestick
Is Everything Free if You Jailbreak a FireStick?
Not everything is free with a jailbroken FireStick. You can access apps and services offering free movies, TV shows, live TV, and sports. But remember, not all free content is legal or safe. You might also stumble upon paid options or subscription services. So, it's essential to check the legality of the content you're accessing.
What Channels Can I Use With a Jailbroken FireStick?
Jailbreaking a FireStick grants you the power to install third-party streaming apps, offering a variety of channels. Some popular channels that jailbroken FireSticks often host are:
# BeeTV
# Sapphire Secure IPTV
# Cinema HD
# Mobdro
# Titanium TV
# FreeFlix HQ
# Kodi
# Morph TV
# Live NetTV
# Ola TV
Remember, these channels may change over time, and it's crucial to stick to legal and reputable sources.
Is a Jailbroken FireStick illegal?
No, jailbreaking a FireStick isn't illegal. You're legally allowed to jailbreak, hack, or unlock your Amazon Fire TV Stick but using copyrighted material is definitely illegal.
What Free Apps Can I Get on a Jailbroken FireStick?
Several free apps like Cinema HD, TVTap, Cyberflix TV, and Surfshark are accessible on a jailbroken FireStick. They offer a multitude of streaming options, a user-friendly interface, and high-quality streams.
Can I Watch Anything With a Jailbroken FireStick?
Yes, a jailbroken FireStick opens the door to free movies, TV shows, pay-per-view events, live channels, and more. You can also install apps like Bee TV, Kodi, and Cinema HD for a wider selection.
Can I Get YouTube TV Free on a Jailbroken FireStick?
Although YouTube TV provides a seven-day free trial, it isn't possible to get it for free on a jailbroken FireStick. Remember, jailbreaking should never involve engaging in illegal activities.
How Do I Download Apps on My Jailbroken Firestick?
To download apps on a jailbroken Firestick, follow these steps:
1. Install the "Downloader" app on your Firestick device.
2. Open the Downloader app and enter the app's URL you wish to download.
3. Click "Go" or "Download" to start the download.
4. Once downloaded, follow the on-screen instructions to install it on your Firestick.
Always ensure the apps you download are from trusted sources.
Has Anyone Gotten in Trouble For Using a Jailbroken Firestick?
Jailbreaking a Firestick isn't illegal, but accessing copyrighted content without authorization is. While no specific arrests or fines for using a jailbroken Firestick are reported, remember that violating copyright laws can lead to penalties.
I Have a Jailbroken Firestick Now What?
With a jailbroken Firestick, you can:
# Modify privacy settings
# Install a VPN for added security
# Scan for Malware
# Download third-party applications
# Customize your Firestick
# Access more channels and content
How to Use a Jailbroken Firestick For the First Time?
When using a jailbroken Firestick for the first time:
# Adjust privacy settings
# Install a FireStick optimized VPN
# Scan for Malware
# Download and install apps
# Explore content and channels
# Set up and customize
The exact steps may vary based on the jailbreaking method and the apps you install. Always use your jailbroken Firestick responsibly and within legal boundaries.
Data Sources:
Other Sources: